This time, "New LETS", which was renewed last year, celebrated its first anniversary. New plans and new functions will be available from "New LETS" from February 17, 2022 (Thursday).
Two long-awaited new plans for the new LETS are now available
"LETS for Academic"

"LETS for Academic (Academic License)" is an academic version license that allows you to use digital fonts safely even in educational settings.
We have prepared a font with the same specifications as the regular version of "LETS" for professional use at a special academic price. It is possible to collectively manage the accounts and licenses of multiple teachers and students at the target educational institution, and it is also possible to review the license according to the student.


"LETS for Server (server license)"

"LETS for Server (server license)" is a plan that allows you to use LETS's wide variety of high-quality fonts in App running on the server.
Content users will be able to embed* fonts in documents and design outputs that are dynamically generated on the server side.

* Only a mechanism that distributes images (including PDF) on the server to the client is possible.

---
New features available to new LETS subscribers
"Font list sharing function"
By issuing a shared link URL on the LETS site and sharing the URL via e-mail, etc., it is possible to share the font list among service users. When you press the shared URL, the font list is automatically imported (the contents of the imported font list can be changed).
By using this function, you can create a font environment suitable for your project.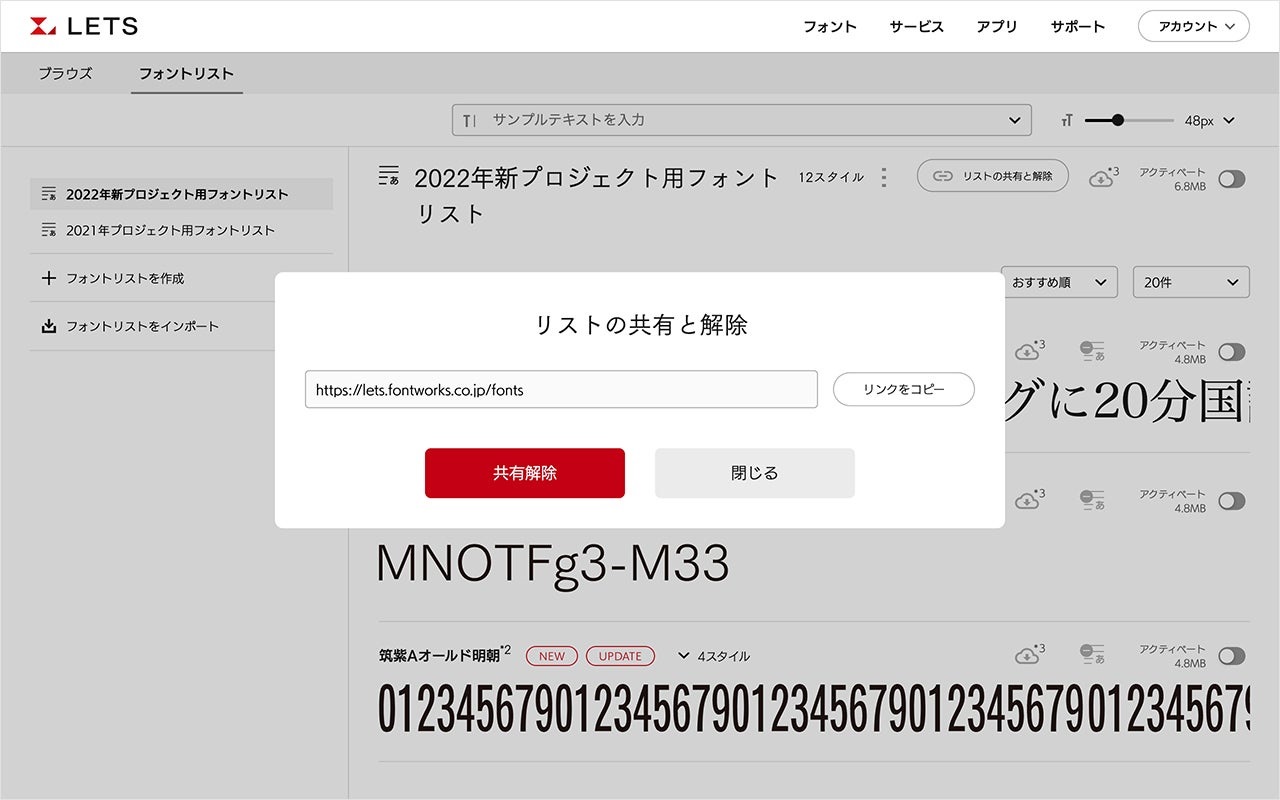 ~Fontworks Recommended font list~
Along with the launch of the new function "Font list sharing function", we have released a list of fonts Recommended by Fontworks for each category. Experience it for yourself, including the features of the font list.
We will continue to add to this list of fonts.

"Special font" 8 typefaces added
In addition to the currently available "Tsukushi B Old Mincho B", 8 typefaces such as "Klee", which is characterized by a handwritten atmosphere written with pencils and pens, have been added to the bonus fonts that can be used with a free account. I was.
Please take this opportunity to try it together with the "Font list sharing function".

---
We will make further efforts to provide a better font environment to all users.