In "New LETS", based on joint research with Kyushu University, a new function "Impression word search AI (beta version)" that can search for fonts from "impression words" that express images of character designs will be launched in March 2022. Available from 31st (Thursday).
You can use it to shorten the time for selecting fonts and to select fonts that match the "image" and "impression" of the design you want to express.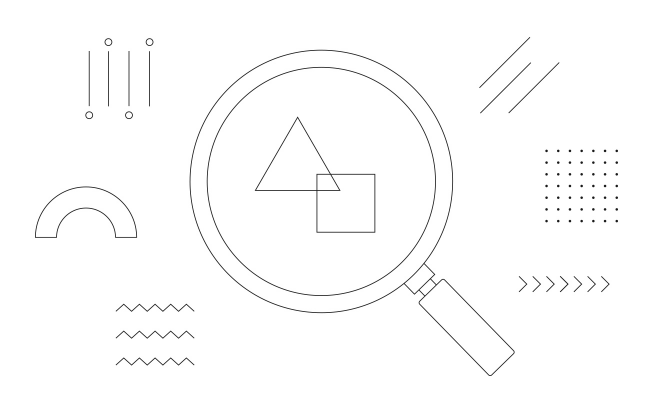 About "Inshogo"
An impression word is a word that expresses the abstract image that people feel about the design of characters.
In the beta version, 36 words consisting of five categories "emotion, shape impression, personality, personification, mental state" selected based on research are registered in each Japanese font (beta version impression words and font Linking is set by our Type Designers).
In the future, we will collect statistical data to improve the accuracy of linking impression words and fonts, expand the required impression words, and improve the search function.

* Impression word search AI plans to collect statistical information on search word data from search robots (Google search, etc.). The information obtained does not identify an individual.

■ Currently registered impression words (36 words)
| | |
| --- | --- |
| Emotion | cute, amazing, pleasant, interesting, comfortable, reassuring, hesitant, scary, painful, hateful, hard, hard |
| shape impression | Hard, Soft, Formal, Casual, Pressured, Light, Rich, Simple, Pretty, Powerful |
| Personality | Childish, mature, naive, friendly, earnest, pure, innocent |
| personification | smart, sexy, cool, chic, feminine |
| Mental state | healing, energy |
"Impression word search AI" development project
In search of further possibilities for fonts, we conducted joint research with Kyushu University in order to obtain performance related to impressions received from fonts from an academic point of view.
The "impression word search AI" development project, which was launched based on the research results​, aims to provide a service that supports designers' font selection by clarifying the "impression-inducing properties of fonts themselves."

Currently, it is only possible to search by impression words, but we will continue to develop it so that it can be searched by sentences, images, person names, etc.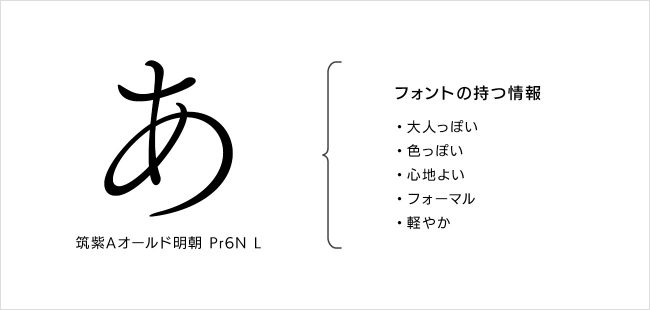 Recommended
・I want to shorten the font selection time.
・I want to present evidence that will be a boost when proposing a design.
・I want to select appropriate fonts even if I am not a designer and have no knowledge of design.
Usage and features
[How to use]
If you select multiple impression words you want to narrow down and search, the search results will be sorted in descending order of degree of matching with the registered impression words.
By using the sort function for each impression word classification for the search results, you can sort the results in descending order of degree of matching with the impression words belonging to each classification.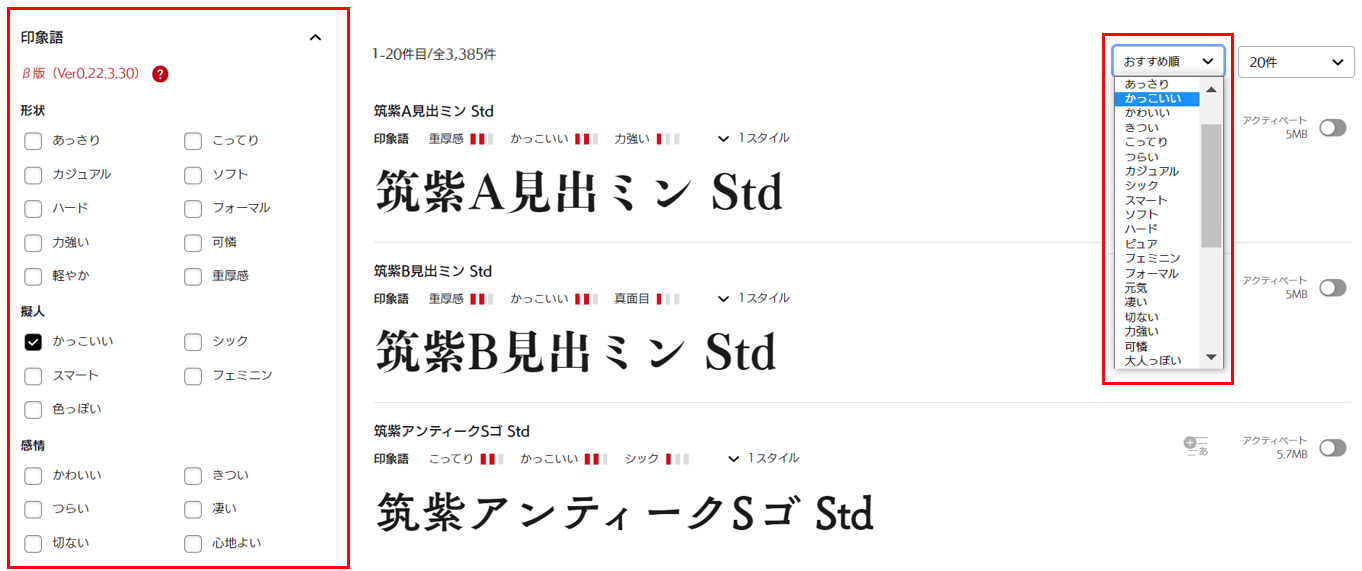 【feature】
1. Impression words are registered in 3 grades for each font.
2. Even in the same family, each weight has a numerical value that indicates a different degree of impression.
3. On the list screen, among the impression words registered in each font, the top 3 words with the highest numbers are displayed.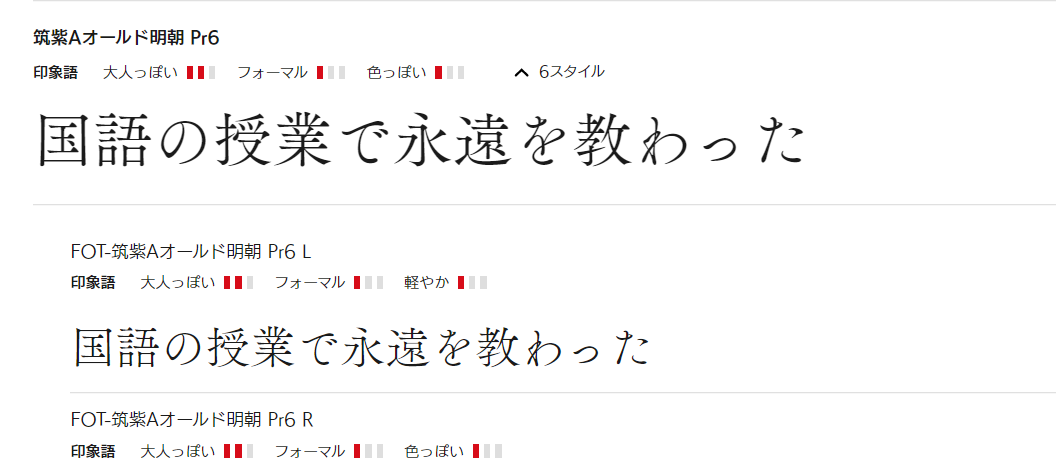 Target lineup
The following services are available. (For Japanese fonts only)

Fontworks LETS / Showa typeface LETS / Iwata LETS / Motoya LETS