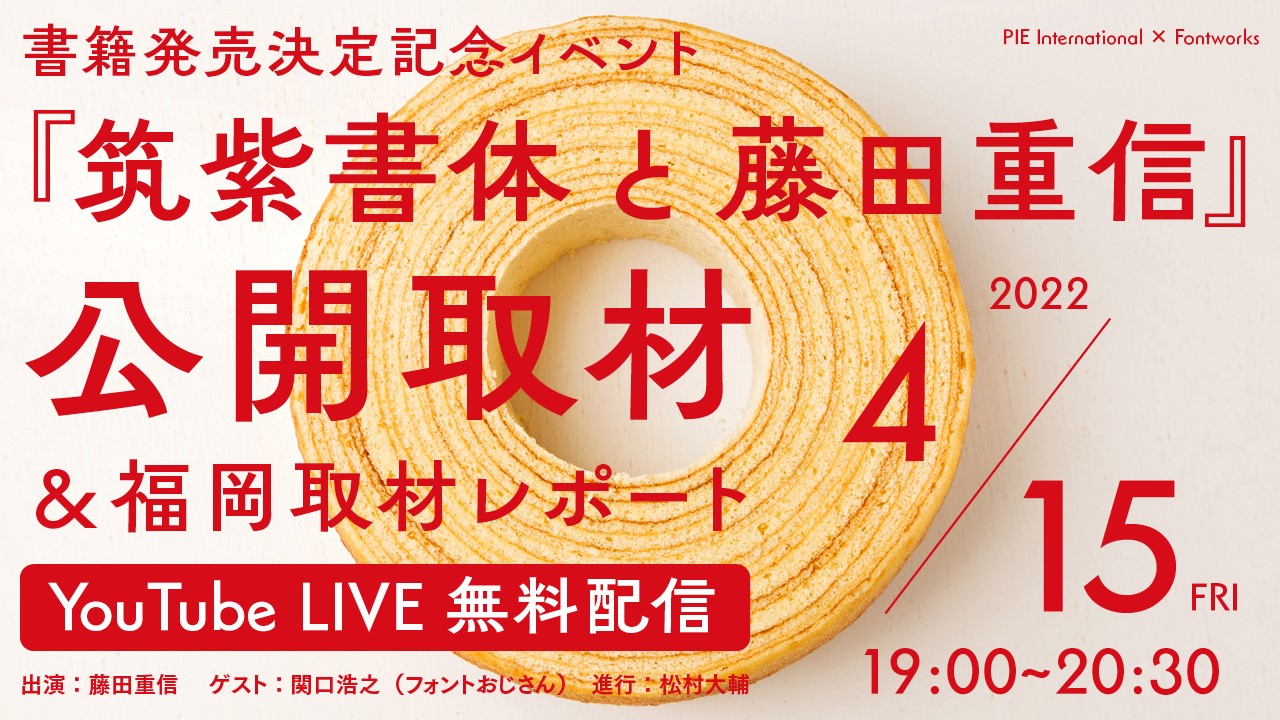 In December 2022, Pai International Co., Ltd. has decided to release the book "Tsukushi Typeface and Shigenobu Fujita".

In this book, 18 years after the release of "Tsukushi Mincho" in 2004, Fontworks typeface design director Shigenobu Fujita, who continues to create new Tsukushi typefaces, how to create "Tsukushi typefaces", We will get to know what kind of creative work they are doing, which we cannot usually see.

To commemorate the release of the book, Daisuke Matsumura will live stream an interview with Fujita on Pai International's official YouTube on Friday, April 15th.

In the first half of the live, Fujita will report on the concept and commitment of the popular typeface "Tsukushimaru Gothic Series", and in the second half, Mr. Matsumura will report on the coverage of Fontworks Fukuoka Creative Lab.

On the day of the event, Mr. Hiroyuki Sekiguchi (SB Technology Co., Ltd.), also known as "Uncle Font", who has a close relationship with Fujita, will appear as a guest.
Please look forward to it!




Performer introduction
Daisuke Matsumura (Pie International)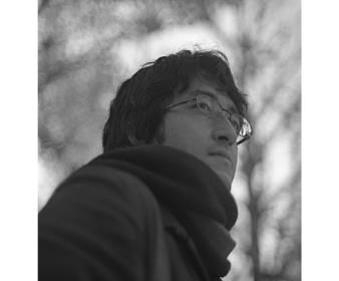 After working at an Advertisement production company and a printing company, joined Pie International Co., Ltd. (Pie Graphics). Book design and editing. I like letters. I like fonts. Edited books include "Let's talk about fonts", "Font dictionary with examples", "Book design 365", "Font matching book", "Hiroshi Manabe's world", etc. Having a love for letters, he published "Town Character Encyclopedia Yokikana Hiragana" and "Town Character Encyclopedia Yokikana Katakana" (Daifuku Shorin), which he collected in towns all over Japan.

Twitter: @cadono
Instagram: @nodoca
Hiroyuki Sekiguchi (SB Technology)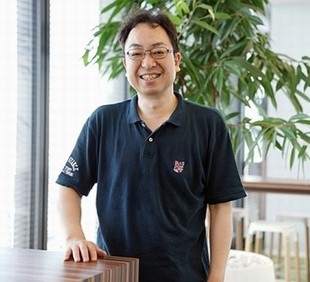 SB Technology Co., Ltd. Web Font Evangelist
While working as a web font evangelist for the web font service "FONTPLUS" at SB Technology Co., Ltd., he is widely known as "Font Uncle", an evangelist who conveys the fun of fonts.
Contributed many articles on characters to online media such as Web Manager Forum, Mynavi IT Search+, MdN Design Interactive, Shoeisha CreatorZine, Nikkan Digital Creators, and Schoo, as well as specialized magazines such as print magazines and information processing. . He is also a special lecturer at universities and vocational schools. Awarded "Best 10 Session" and "Best Character" at CSS Nite Best Session 2017. Awarded "Best 10 Sessions" in 2018 and 2019. Sponsored the "FONTPLUS DAY Seminar" on the theme of fonts and design. Written for "On-Screen Typography Thinking about Web Character Expressions from Case Studies and Editorials" (BNN) to be released in March 2021.

Twitter:@HiroGateJP
Facebook: Hiroyuki Sekiguchi (Uncle Font)
Shigenobu Fujita (Fontworks)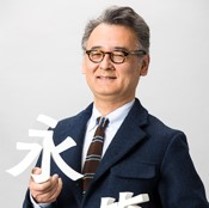 Fontworks typeface design director
Born in Fukuoka Prefecture in 1957. Graduated from Chikuyo Gakuen High School Design Department. In 1975, he joined the character design department of Shaken Co., Ltd., a phototypesetting machine. In 1998, he joined Fontworks Inc., Ltd. and developed many typefaces including Tsukushi typeface.

Received the 2010 Tokyo TDC Award for "Tsukushi Old Mincho" and "Tsukushi Maru Gothic". A must-have typeface for book designers and graphic designers.
In 2016, he appeared on NHK "Professional Work Style". In addition, "Fontworks Universal Design Font" won the IA Universal Design Award 2016 Silver Award. The Tsukushi typeface series won the 2017 Good Design Award. Author of "Fushigi of Character Design and Typefaces" (published in 2008, Sōyōsha).
"Tsukushi Old Gothic-B" "Tsukushi Antique Gothic-B" "Tsukushi Antique Mincho-L" "Tsukushi Q Mincho-L" "Tsukushi A Vintage Mincho-R" "Tsukushi B Vintage Mincho-R" Received the 2018 Tokyo TDC Award Type Design Award.

Twitter: @ Tsukushi55