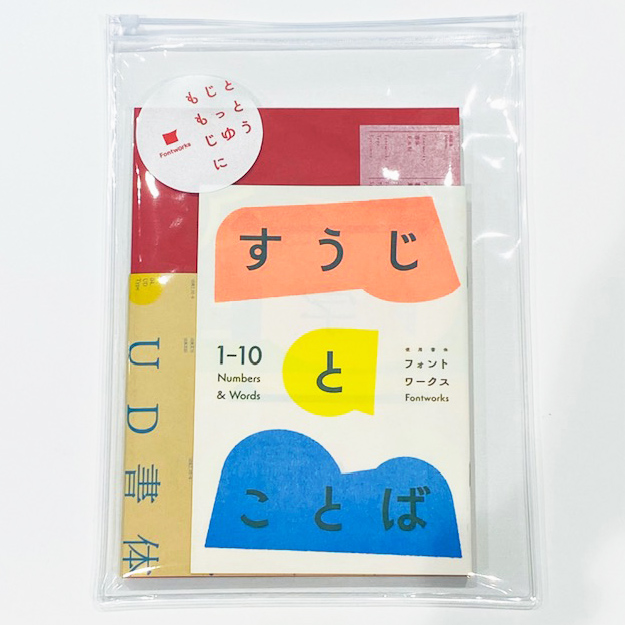 フォントワークスで提供している「バリエーション豊かな書体」を網羅した冊子・『フォントワークス書体見本帖』の最新版が完成いたしました。

『書体見本帖』は、デザインや文書など、幅広く文字を扱う方に是非お手に取っていただきたい冊子です。
書体ごとに、漢字とひらがな・カタカナの組み合わせや、ウェイトの違いによって見た目がどう変わるかを分かりやすく提示。複数のフォントを紙面上で見比べながら、作りたいクリエイティブにふさわしいフォントの選定や、これから作りたいクリエイティブのイメージ作りにお役立てください。

これまでのフォントワークスの書体見本帖は、充実した内容はもちろん、こだわりの装丁などにも好評をいただいてきました。最新版となる本冊子でも、「書体との出会い」をお楽しみいただける充実の内容となっています。


(2022年8月3日 追記)
BASEにて、『フォントワークス書体見本帖(最新版)』の販売を開始いたしました。
詳細は本ページの最下をご確認ください。


Features of the Fonts book
Discerning "binding"
Continuing from the 2020 edition, we have adopted the codex that received a lot of feedback.
In addition to the codex outfit, this time it is also wrapped in cheesecloth to improve its toughness. More than ever before, you can use the Fonts book at the daily production site.

* Codex binding: A bookbinding style that allows you to open any page without holding it down by hand.
* Cheesecloth: A cloth that is roughly woven into a plain weave using hemp or cotton threads.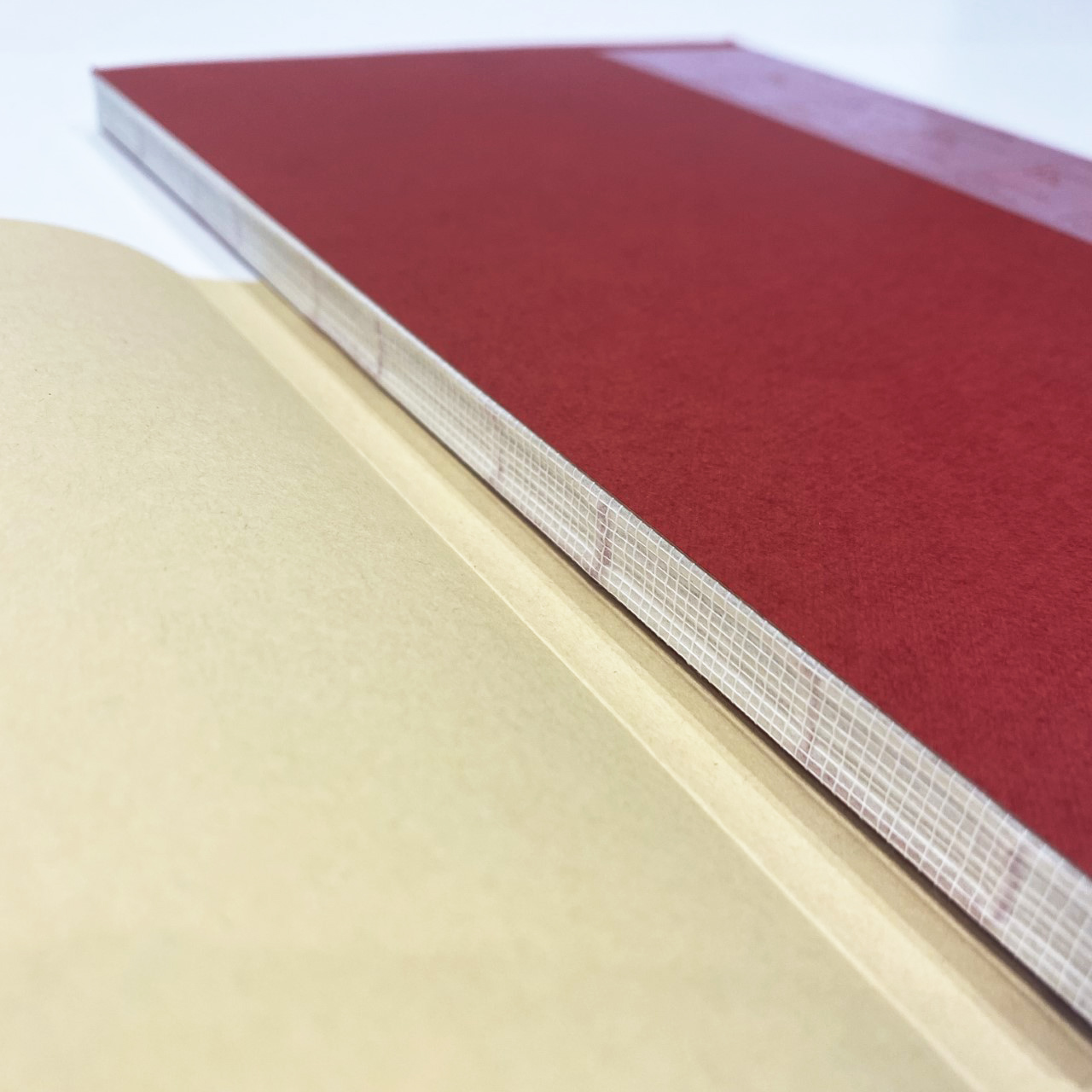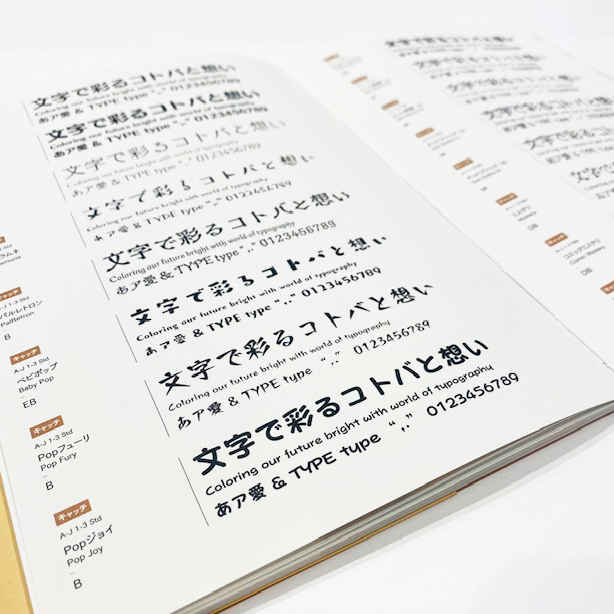 The cover is letterpress printed with white ink on a red background, giving it a sense of luxury and sharpness typical of Fontworks.
A tall strip like the cover lists the typefaces.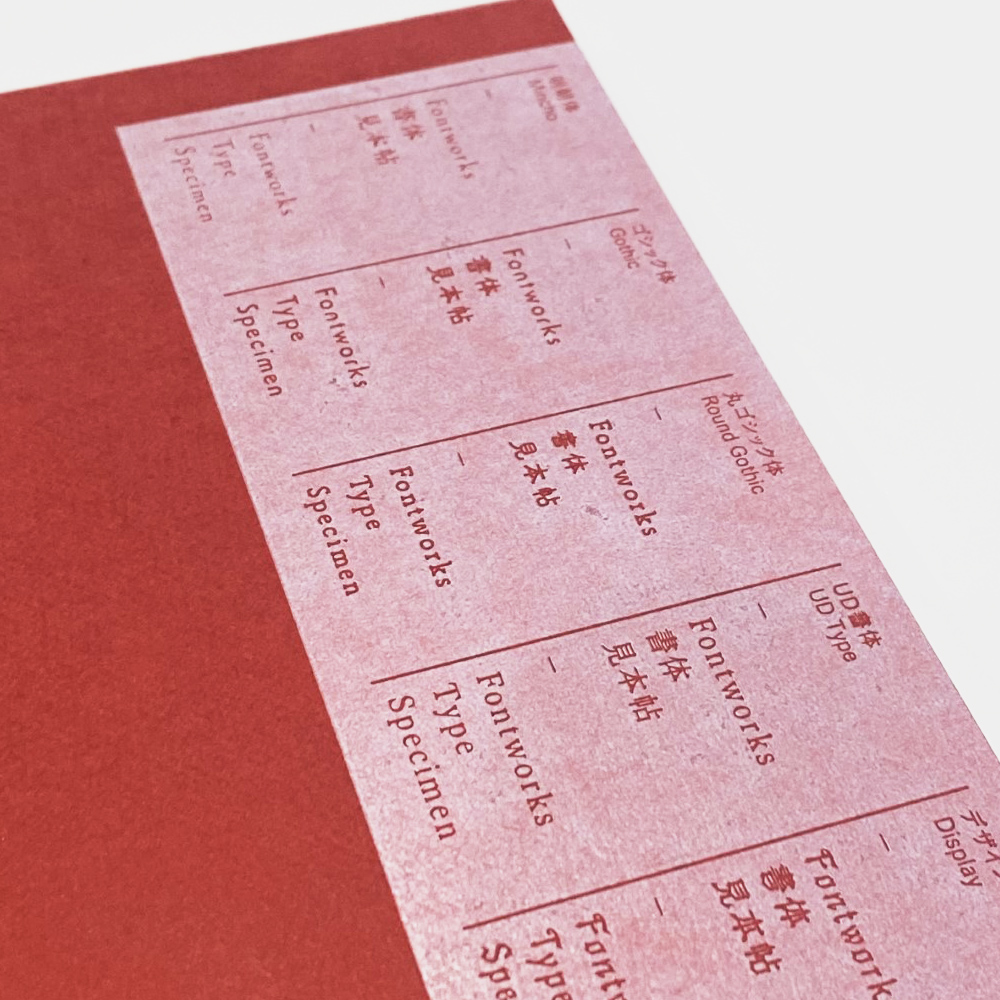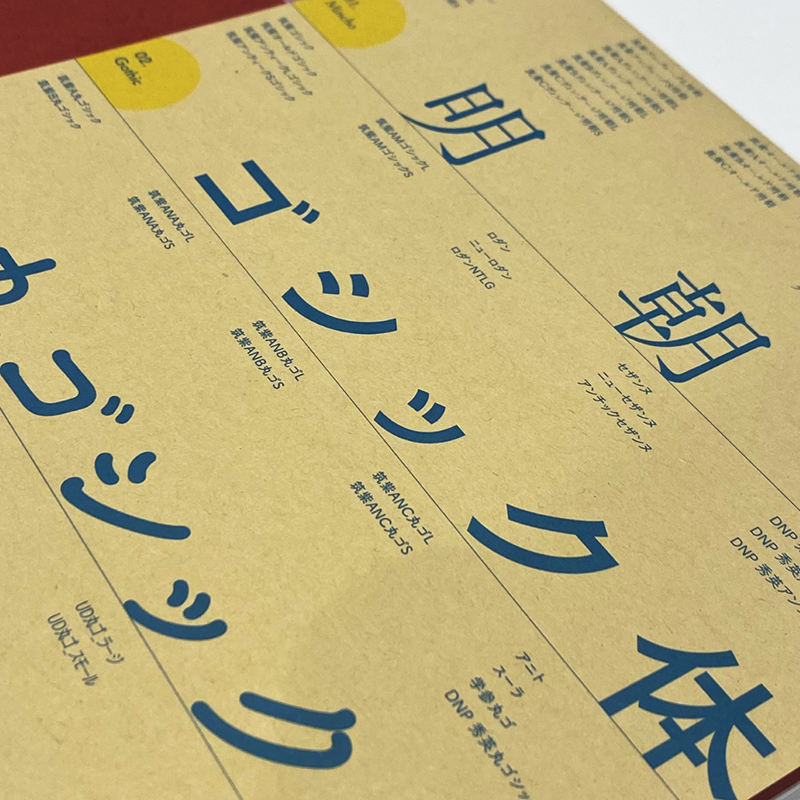 "Bescho" to be a reference when using typefaces
I inserted a separate page as a door for each typeface Categories.
On the front side is a list of typefaces in each category, and on the back side is an image of the representative typeface and the Text.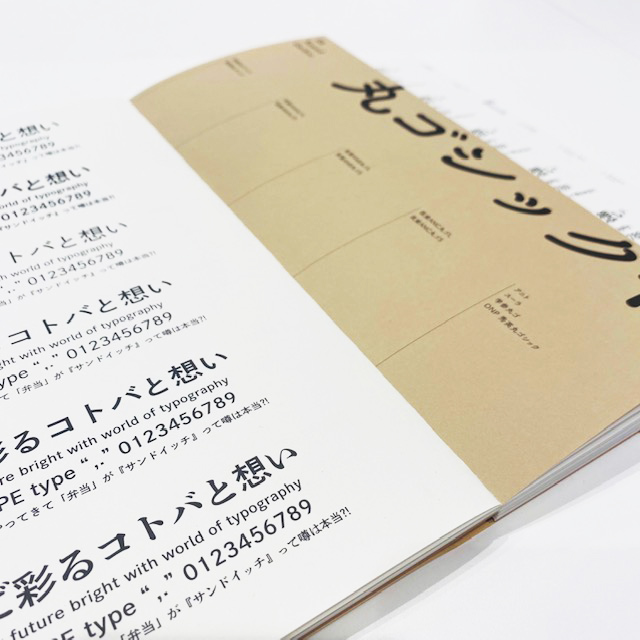 Colorful and fun "RISOGRAPH booklet"
A risograph booklet is also included as part of the Fonts book.
Mainly new typefaces from 2020 onwards, produced with the theme of "suji and words". Enjoy how your fonts stick to your media.

* RISOGRAPH: Digital stencil printing based on the principle of stencil printing, a printing method in which fine holes are made in a screen-like plate and ink is pushed out onto the paper (RISOGRAPH is a registered trademark of RISO KAGAKU CORPORATION).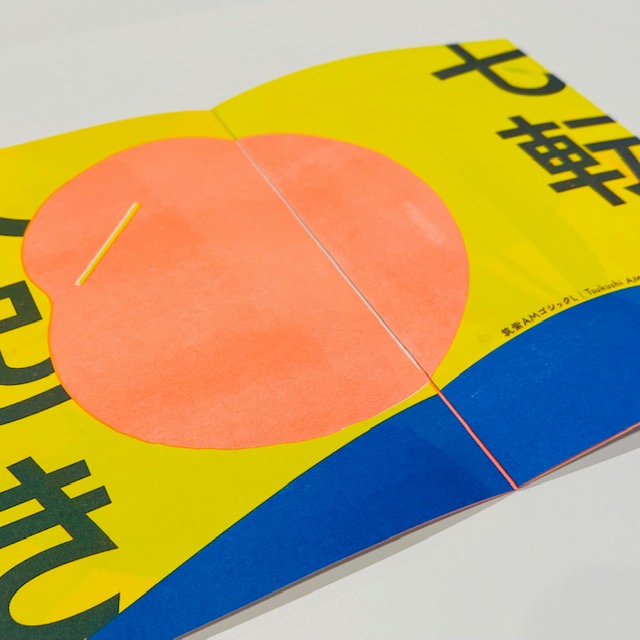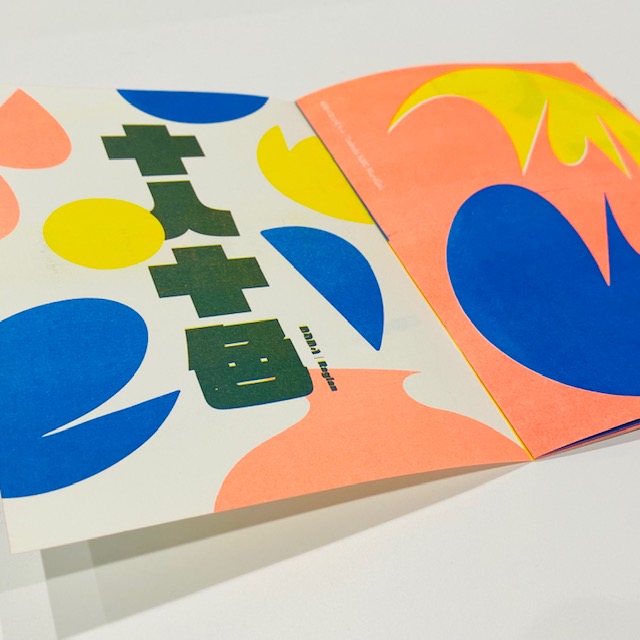 Product Details
Product details
・Fontworks Fonts book
・Suji to Kotoba (Risograph booklet)
・Original zipper case
Size/number of pages
・ Fontworks Fonts book: B5 / Text 96 pages + separate 8 pages
・Suji to Kotoba (Risograph Booklet): A5/12P
・Original chuck case: W325mm×H234mm
price
3,300円(税込)
書体見本帖の販売について
以下のサイトにてご購入いただけます。
※製品はご注文から1週間前後でのお届けとなります。