Hello, this is like old things like, cute things Fukushima.
This time, I went to "Letterpress TOKYO", an Event letterpress printing, held in Jimbocho, the town of books.
What is "letterpress TOKYO"? ?
Letterpress TOKYO is Japan's largest letterpress printing Event held in Jimbocho, Tokyo, and is held for three days: August 30 (Fri), 31 (Sat), and September 1 (Sun).
Fontworks Pre-planning of "Moji Fes." As a booth in the workshop area!
The Event started in 2015 with the hope that we would like to re-illuminate the traditional technology of letterpress printing and let people of all ages know the appeal of letterpress printing. Workshops, exhibitions and talk shows where you can experience typographic printing in a place where you can directly interact with creators involved in printing, such as a stencil shop or designer, and those who are interested in printing and paper to feel the charm of typographic printing more closely. Etc. will be held.
This year's letterpress TOKYO was divided into a workshop area and a market (product sales) area, and the first day was quite busy despite being a weekday. In the workshop area, there were exhibitions from Hong Kong, Taiwan, Singapore, Malaysia, etc. as a world letterpress exhibition-Asian market.
活版TOKYO2019の開催日は8/30(金)、8/31(土)、9/1(日)の三日間です。乞うご期待!!#活版TOKYO #活版TOKYO2019 #活版印刷 #letterpress pic.twitter.com/e1sVE8PhCd

— 活版TOKYO (@kappan_tokyo) 2019年3月8日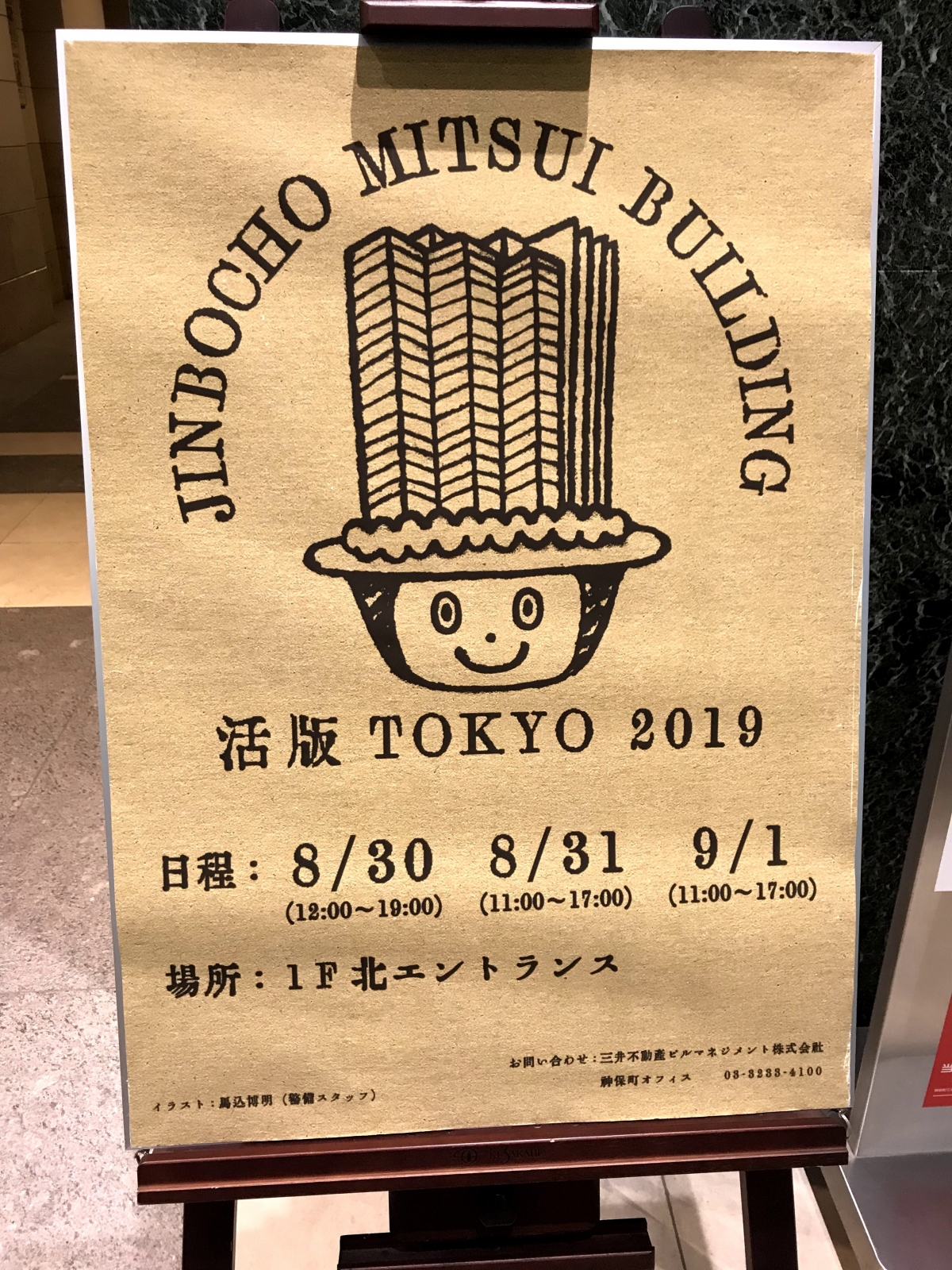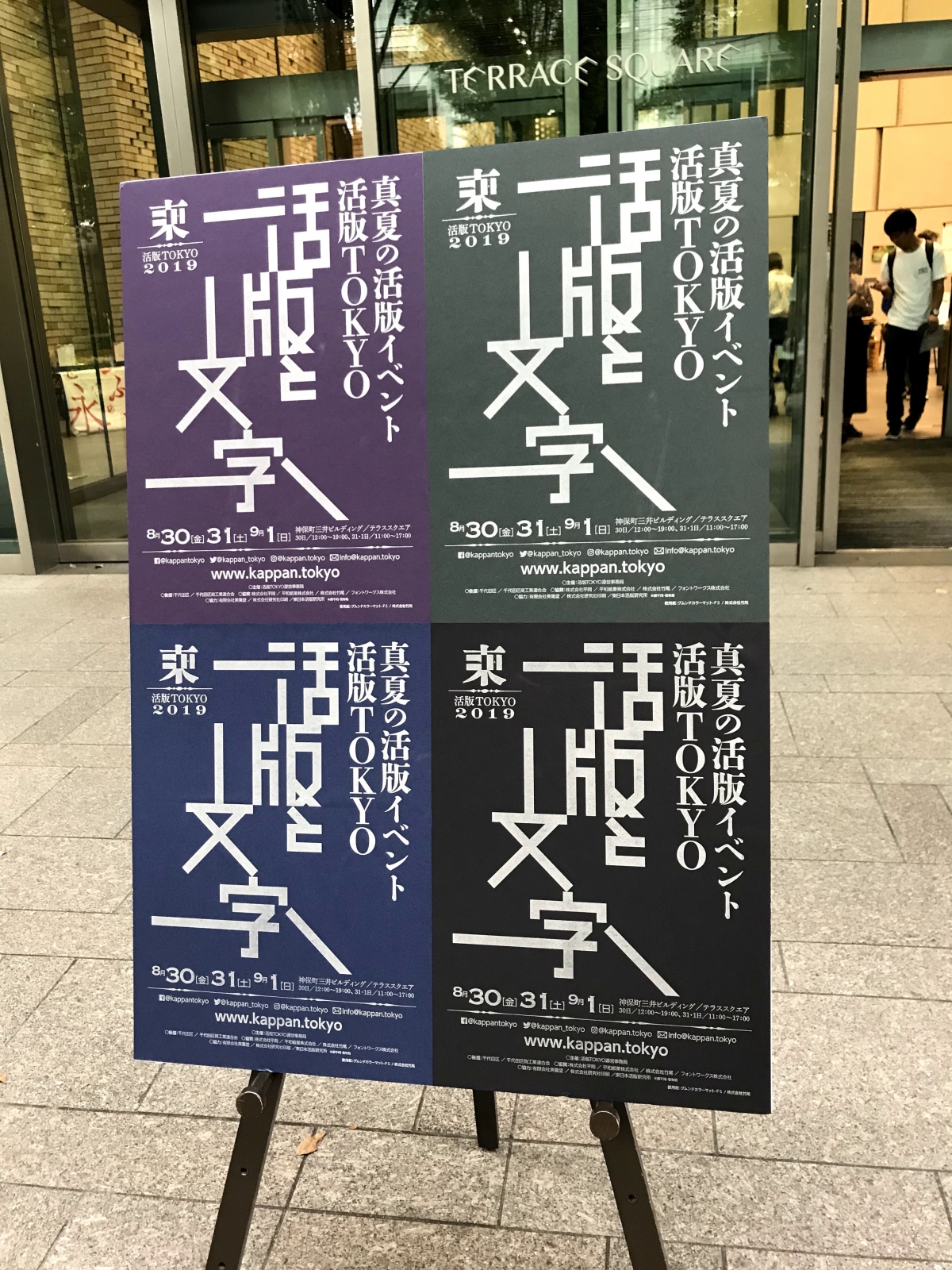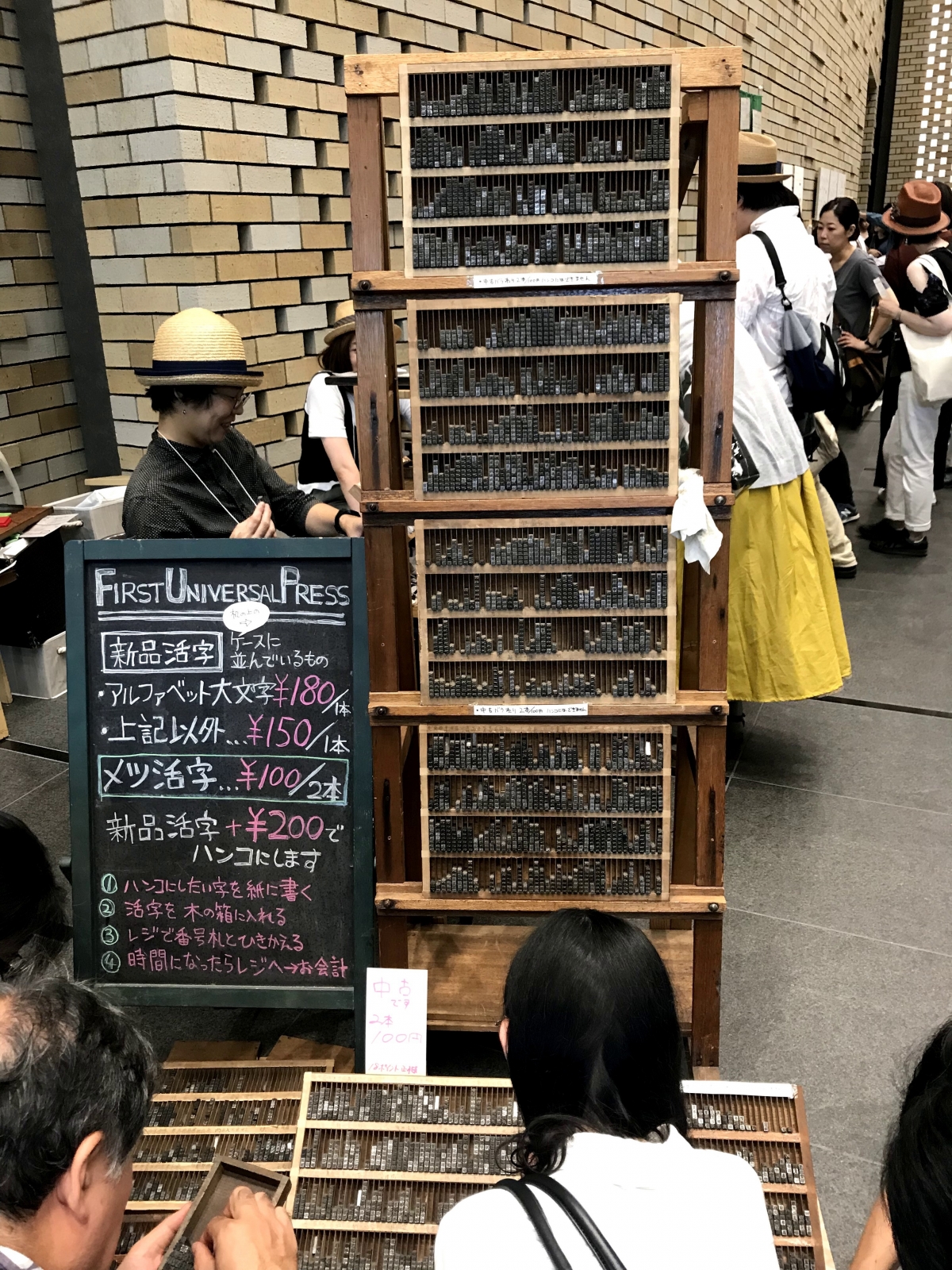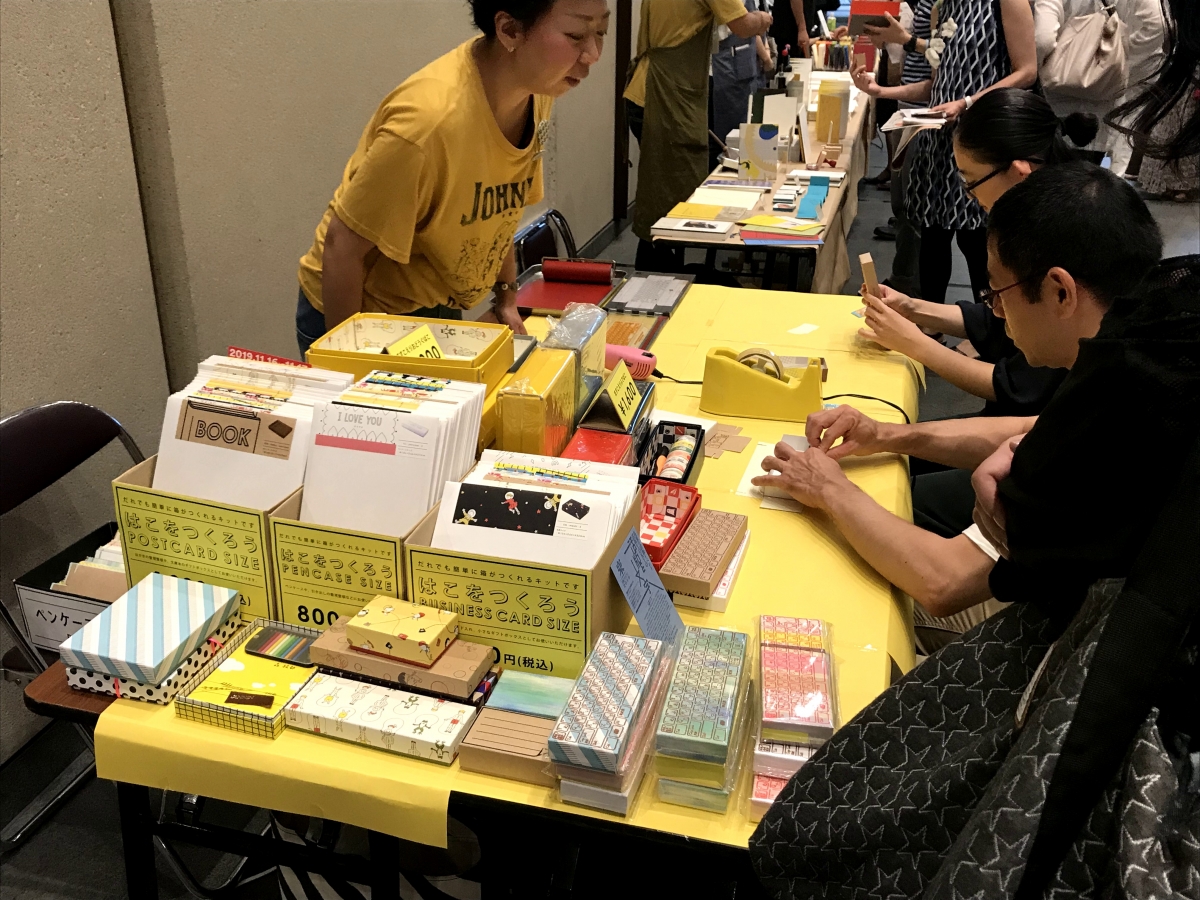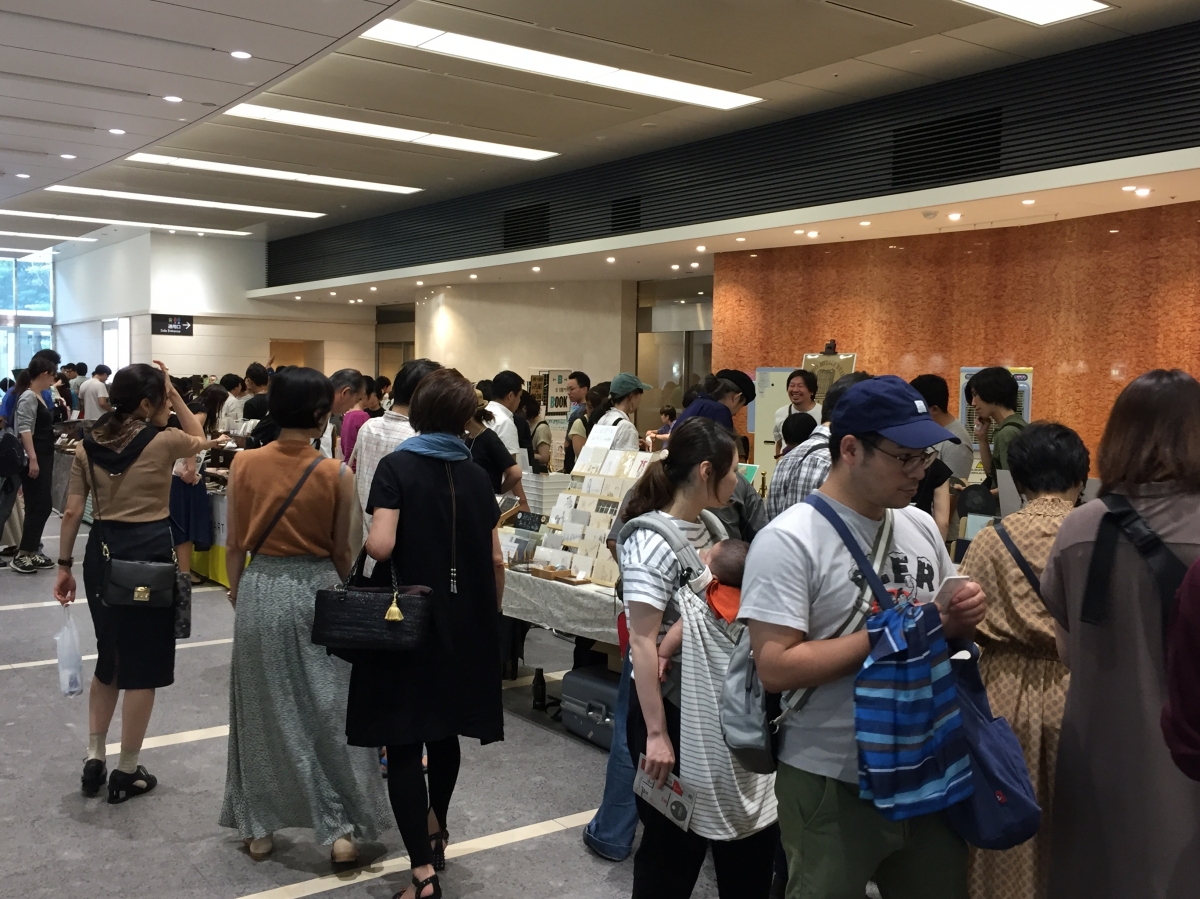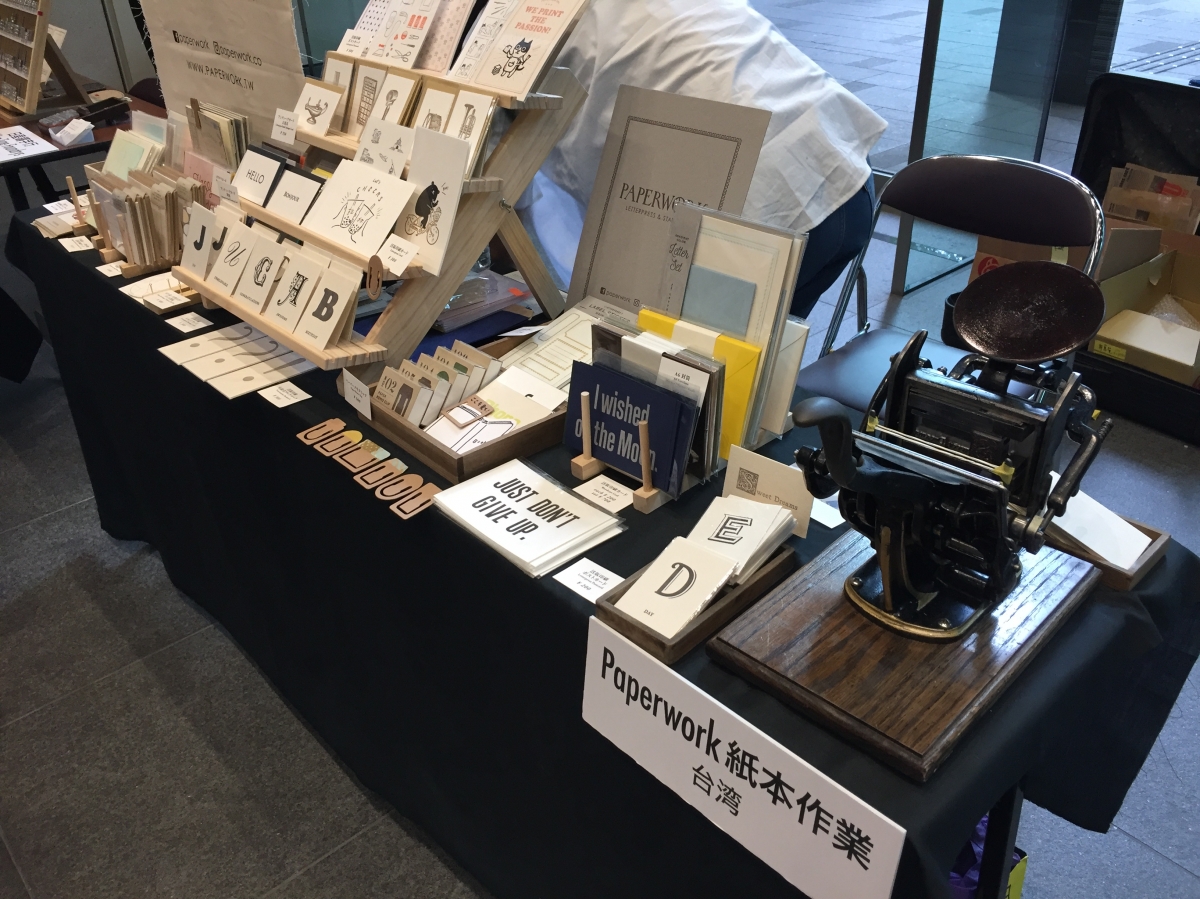 What is letterpress printing? ?
Letterpress printing is classified as letterpress by a printing method that uses a typeset (typeset type) made by combining types.
Well, it's a little difficult. It may be easier to understand by looking at the picture.
Recently, it has been recognized as "printing where you can feel the unevenness of the paper due to printing pressure." It has a different meaning originally, but I think that it is known to young people as printing that gives unevenness.
In fact, letterpress printing itself is a printing technology that has been around for a long time, and nowadays it has almost finished its role as commercial printing due to the rise of phototypesetting and DTP.
However, the uneven fun of letterpress printing, the slight taste of ink accumulation and the faint taste makes me feel "nostalgia and warmth".
Once again, that appeal is spreading as an artistic thing!

The process of letterpress printing takes a lot of work.
Choose print, compose letters, apply ink, apply pressure, wait for ink to dry. .. ..
By carefully performing each of these processes, that beauty and warmth will be created.
Personally, I think Fontworks' Chikushi typeface is very compatible with letterpress printing.
The Chikushi typeface is not a typeface that was created in the age of metal type, but a digital font that was born in 2000, when we entered the DTP era.
However, I think that the design that reproduces the "blurring/ink ink pool" of metal type, which makes you forget that it is a digital font, gives "nostalgia, warmth, and softness". Because it is such a typeface, it goes well with letterpress printing! It is.
At the Fontworks booth, experience making "Chikushi Fonts cards"! !
At the Fontworks booth, a workshop will be held where you can create a Tsukushi Fonts card using a manual letterpress printing machine (Tekin). We welcomed you to Morita and Fukushima, Type Designers.
Starting from the first day, many people lined up as soon as possible. Thank you to everyone who experienced it.
Due to the limited number of people, unfortunately everyone who could not experience this time will definitely have a chance to try it again (we will have a business trip exhibition at "Moji Fes." on 11/16-11/17!)!
The flow of the workshop is
1. Select the Japanese or English version.
2. Load the paper.
3. While moving the roller by moving the lever up and down, put the ink on the plate.
4. Apply the total weight and lower the lever to print.
5. Make a hole for crimping to set the letterpressed card and the typeface explanation card prepared in advance.
6. Caulking is complete!
From those who were familiar with Fontworks and Chikushi typeface to those who were new to this workshop, many people were able to enjoy fonts (letters) through letterpress printing. !!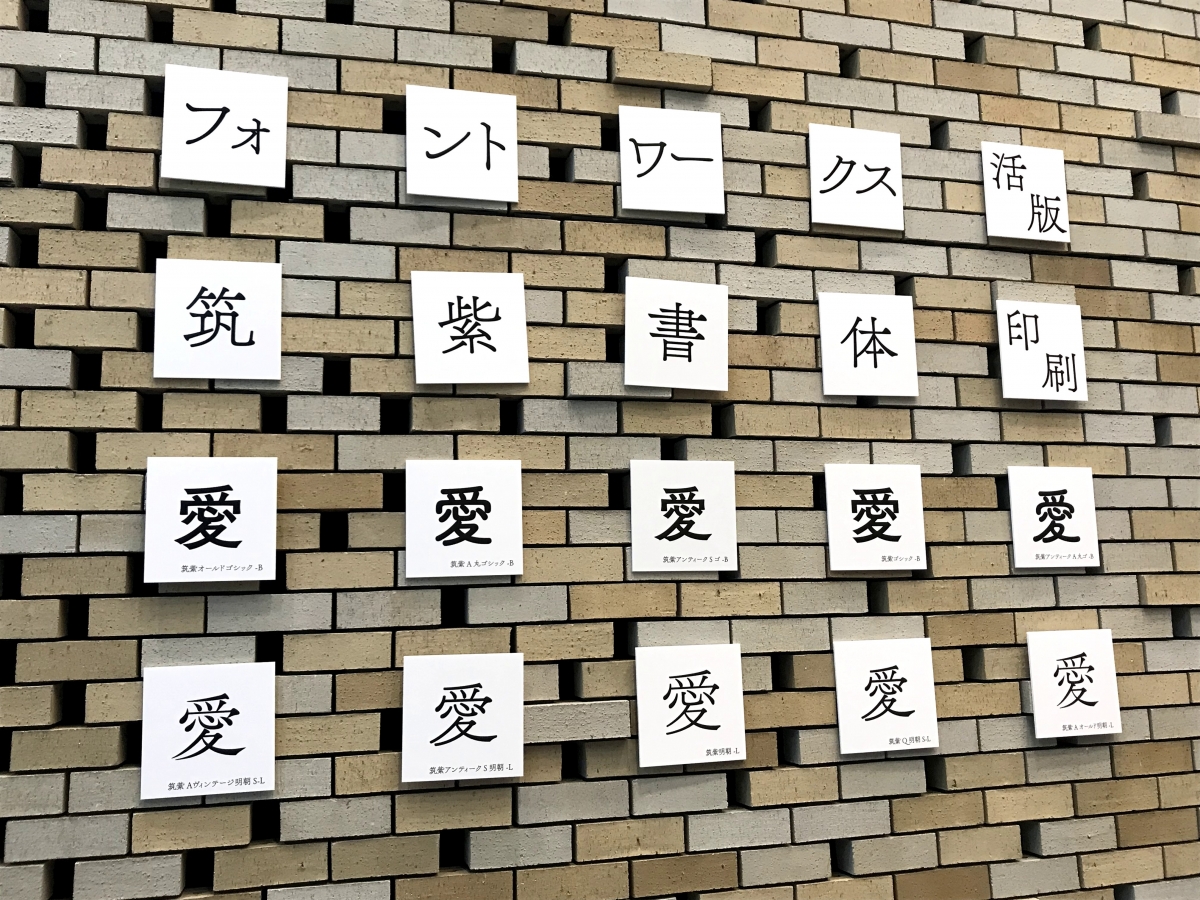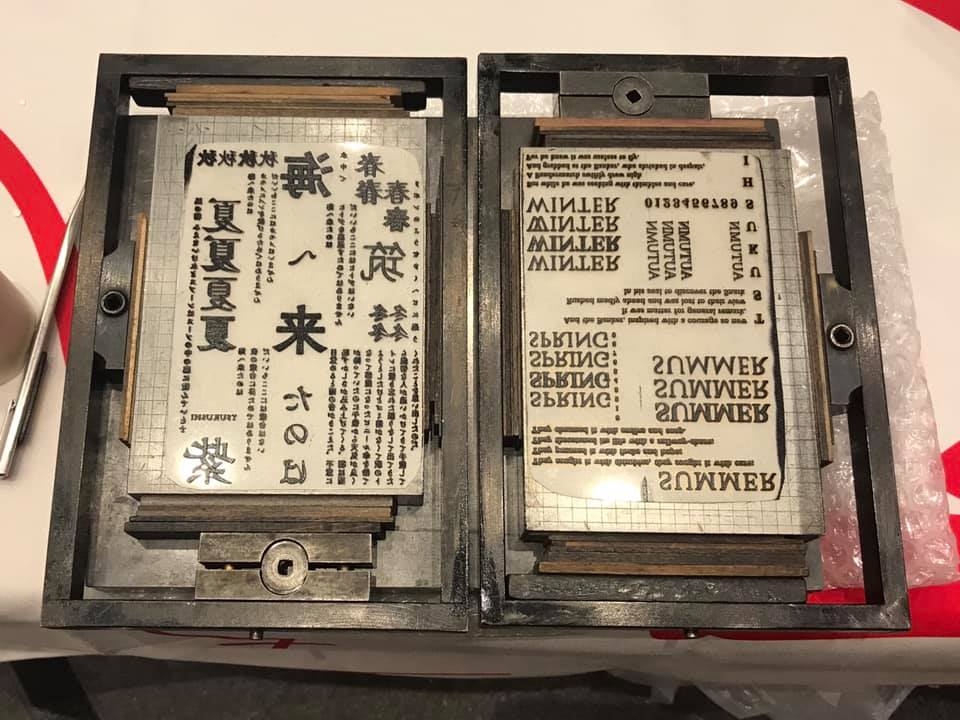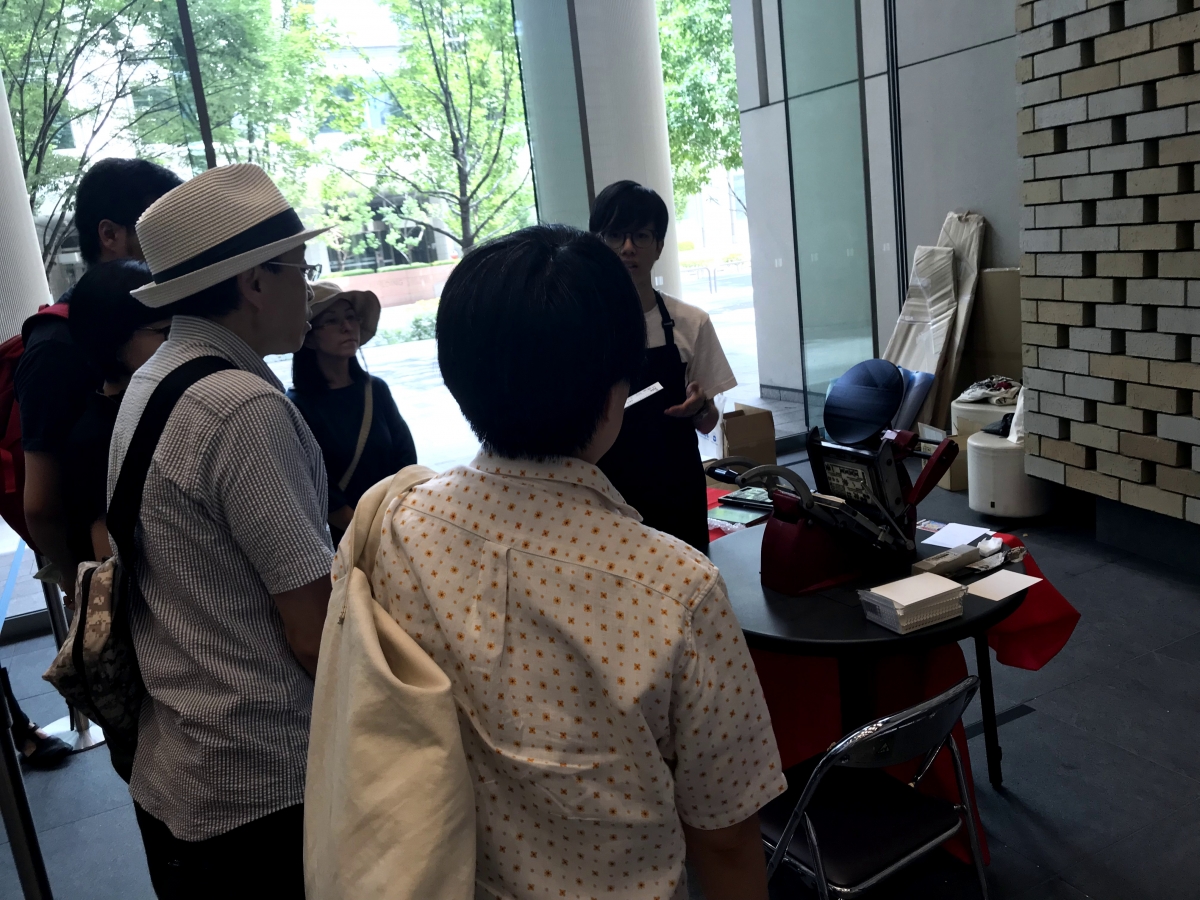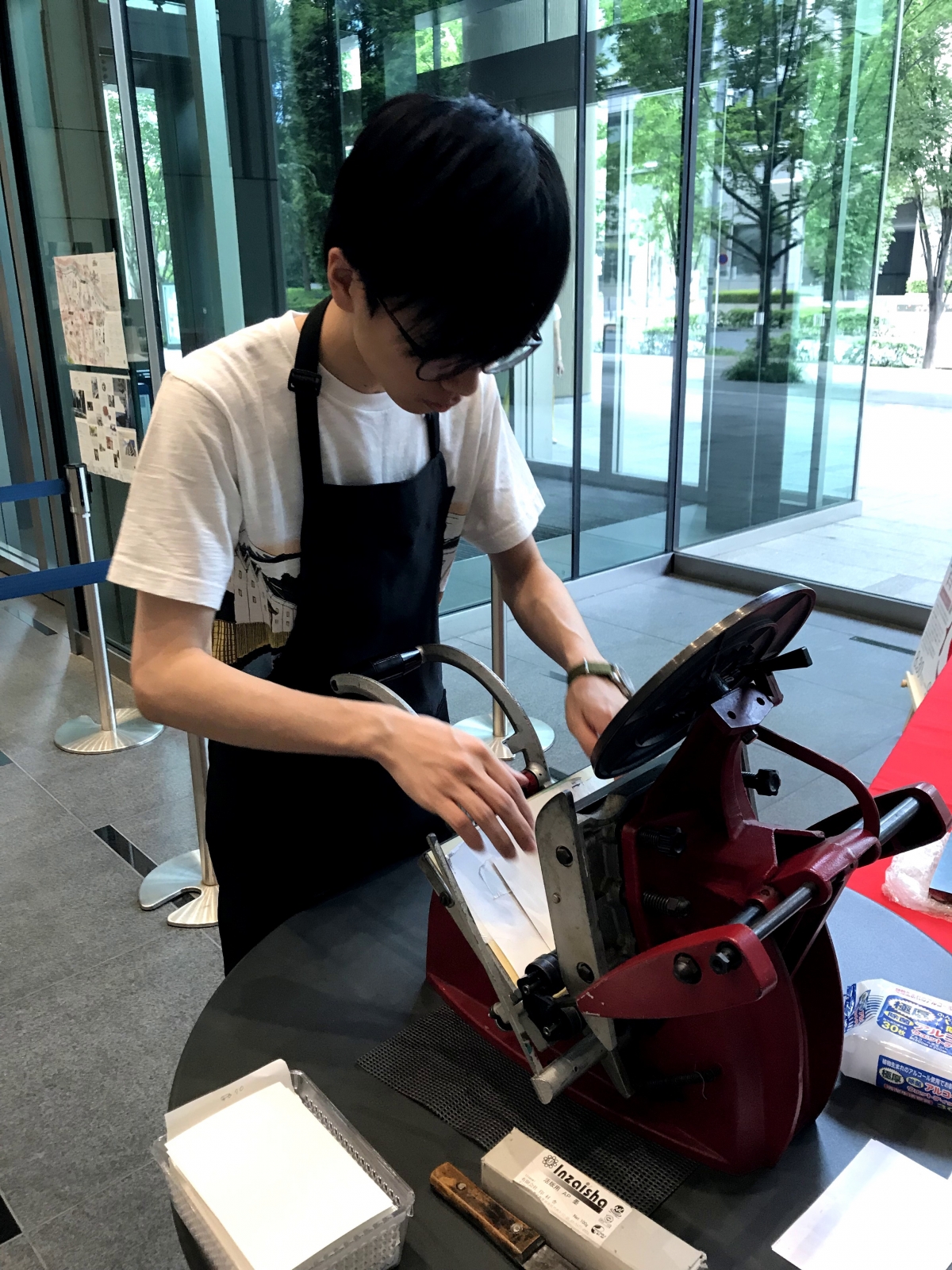 紙をセットして
版にインキをのせて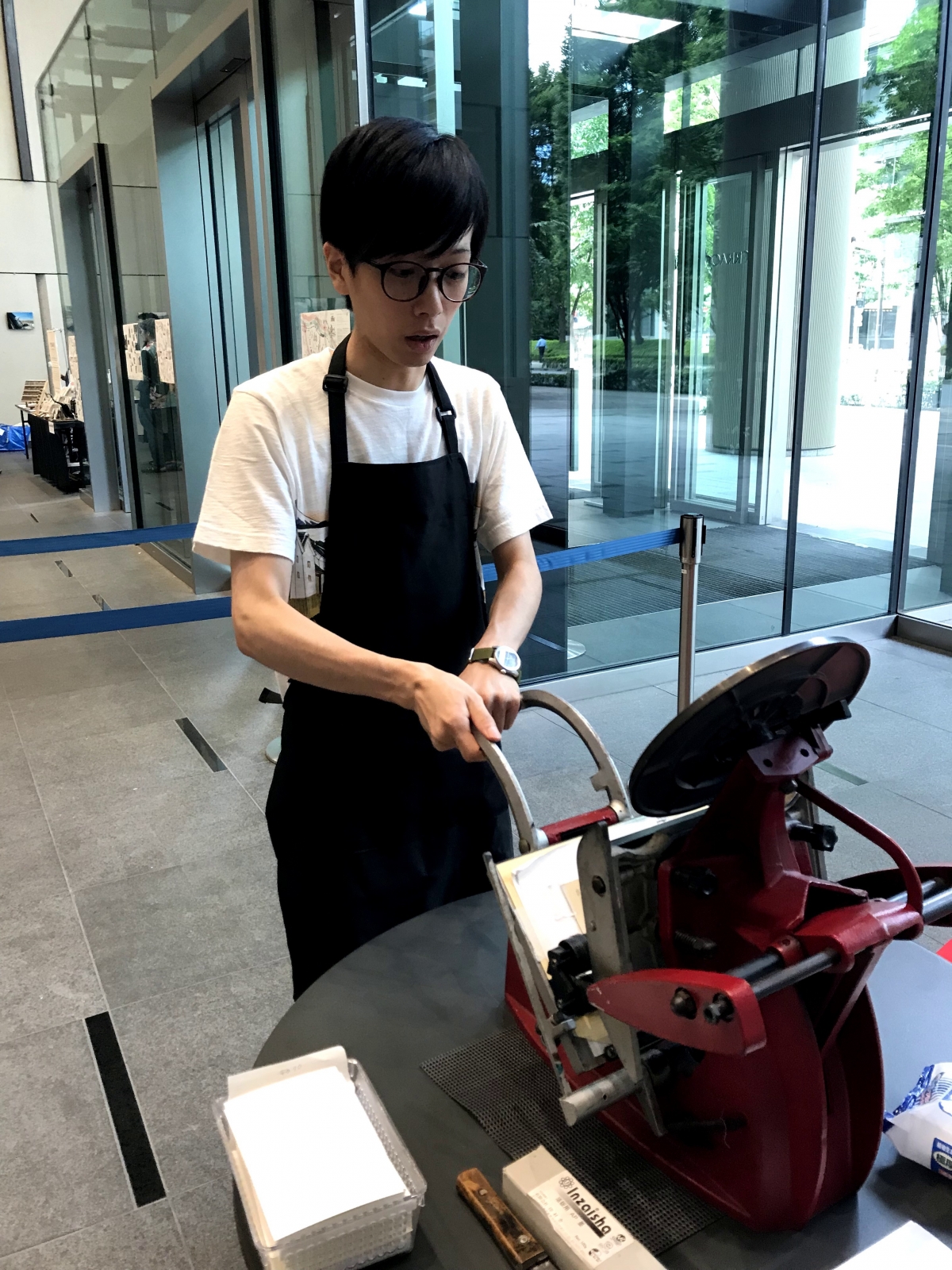 印字する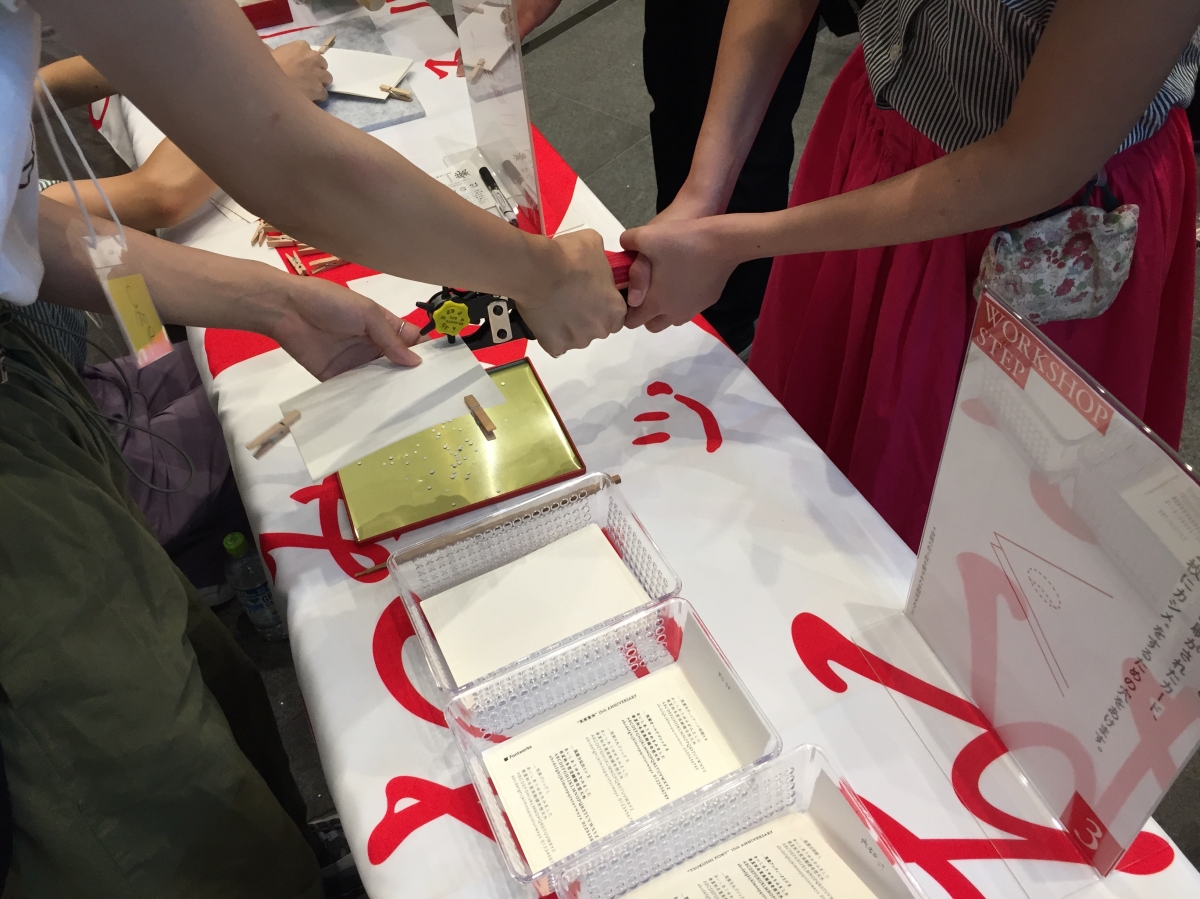 穴をあけてセット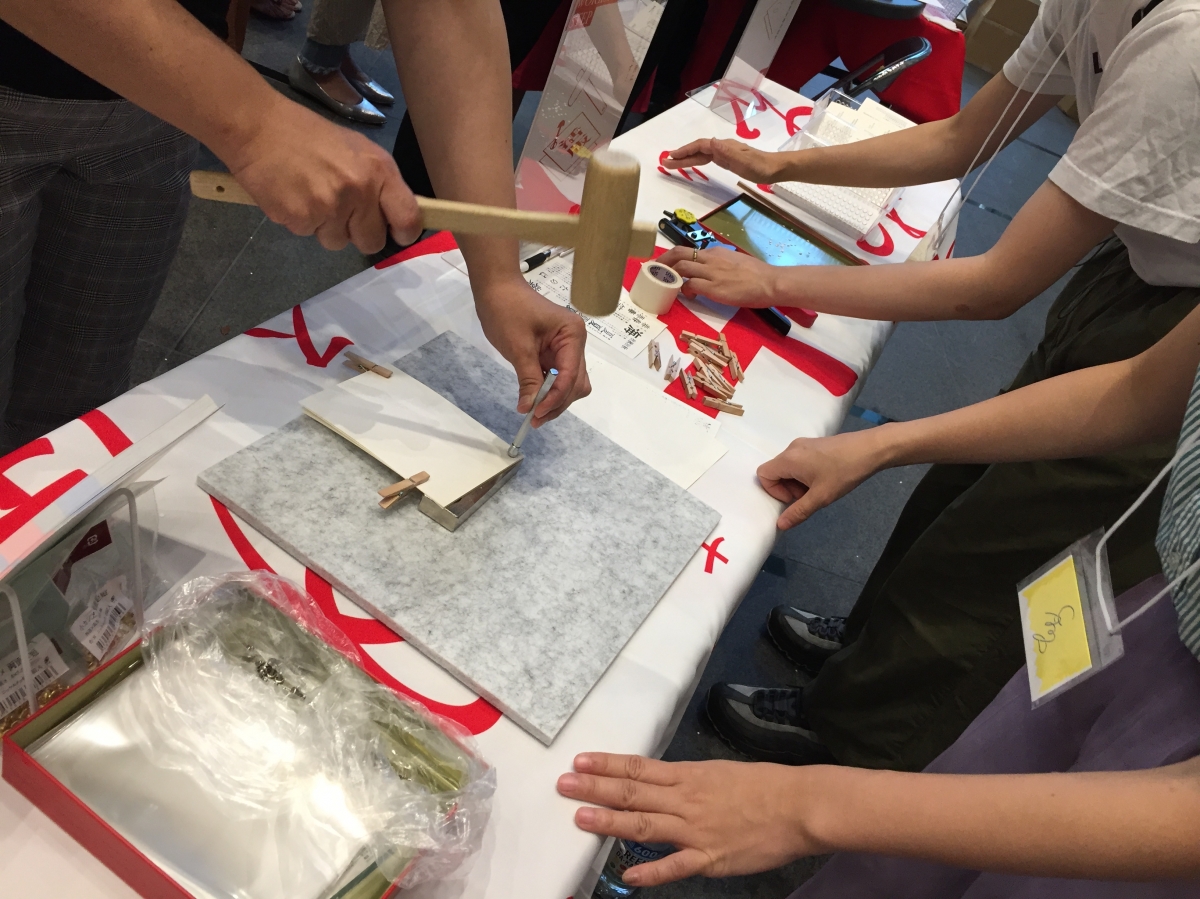 カシメをして完了!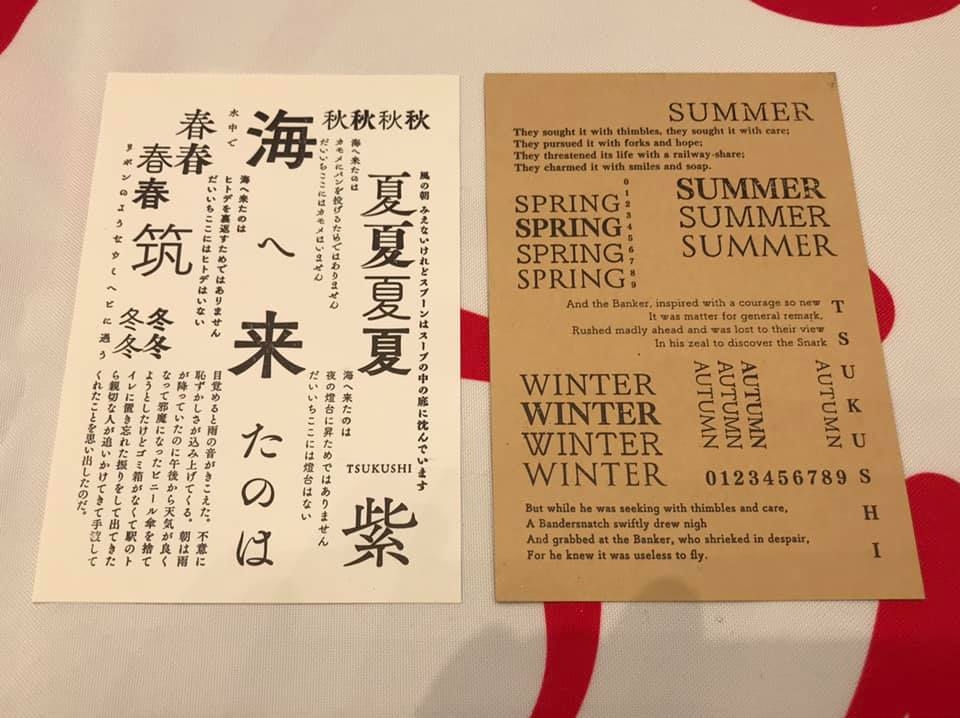 実際に活版印刷したもの
#TOKYO in letterpress A workshop made with a manual letterpress. Due to its popularity, today's session will end ... Tomorrow we'll be doing the day after tomorrow! pic.twitter.com/dU5wFyXyZX

— Fontworks / Fontworks (@Fontworks_Inc) August 30, 2019
Talk session on the last day!
On the final day of the event, on September 1st (Sunday), we held a talk session "Character Charm-From typographic printing to digital fonts" with Hiroyuki Sekiguchi, the uncle of SoftBank Technology fonts, and Shigenobu Fujita, Chikushi Type Designers. .. Start with a gentle atmosphere. The talk between Mary Tojo, Sekiguchi and Fujita is exquisite!
Starting from the history of letters, the physical constraints of letterpress typesetting/typesetting, the typeface circumstances demanded by the era, while discussing the moisture and body temperature that were felt because of analog type, how they affect the Tsukushi typeface We had a lot of talks about whether it was given or whether the Chikushi typeface was born.
The schedule of 60 minutes was extended by 30 minutes due to the excitement, and it ended!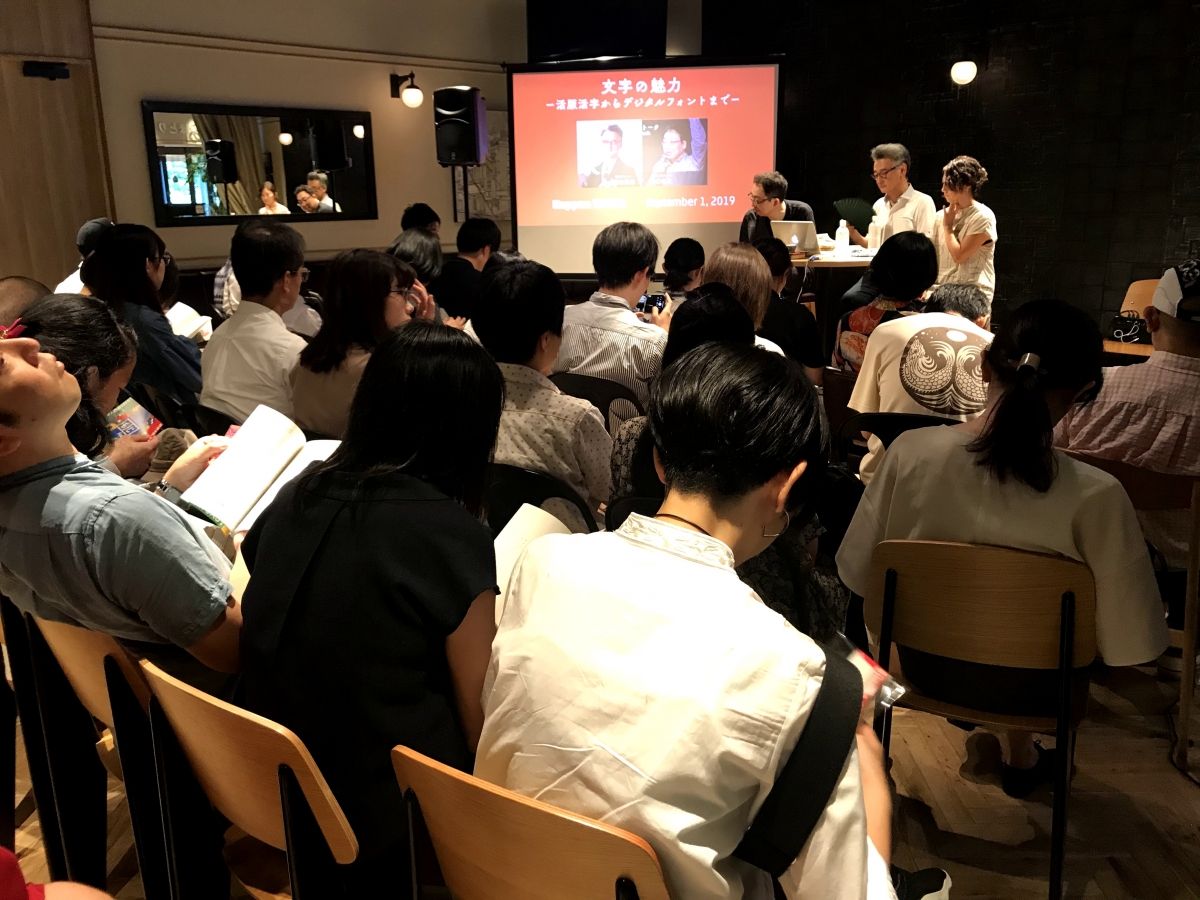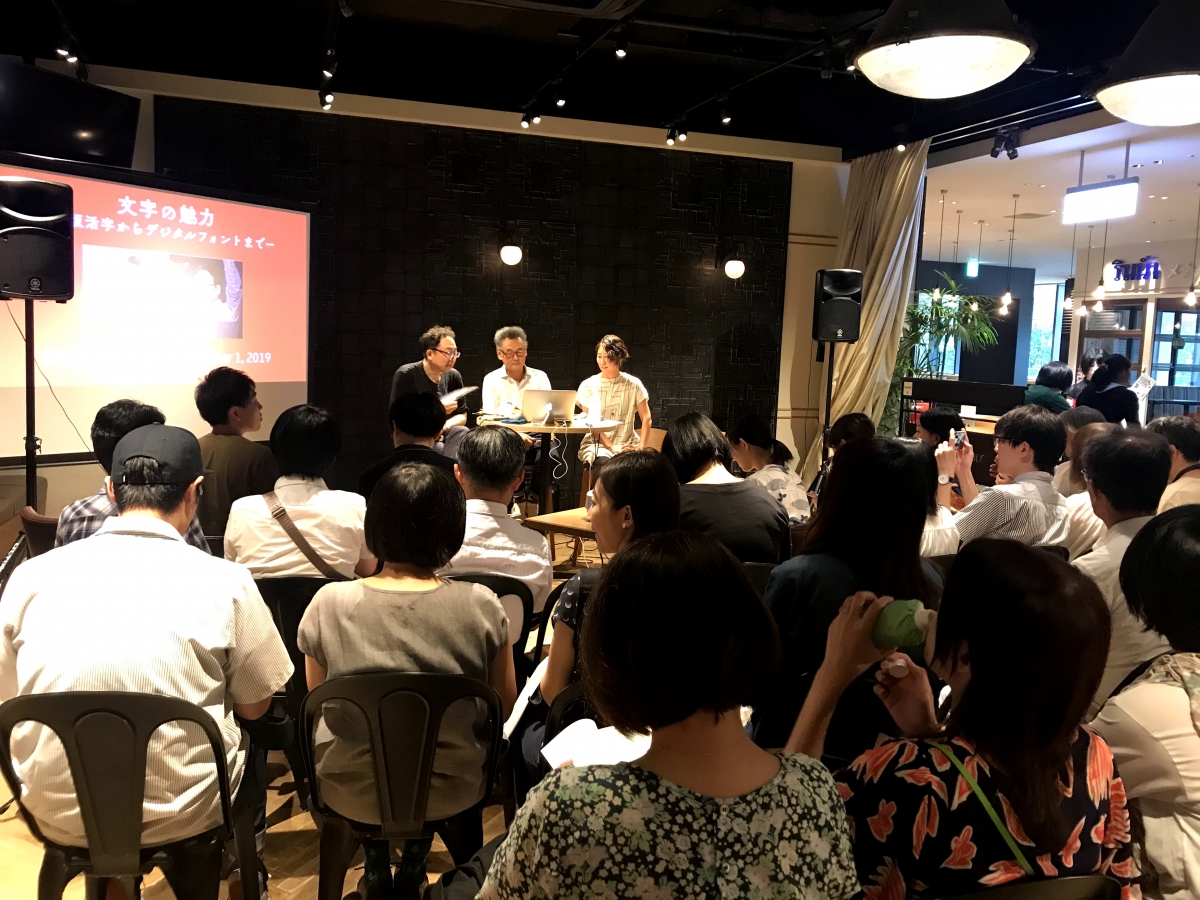 The situation on the day was posted on "Kitatsu TOKYO" official Twitter. You can feel the fun atmosphere.
昨日の活版TOKYOの様子を一部ですが動画にしました。
少しでも雰囲気が伝われば嬉しいです。来て下さった方々、来れなかった方にも感謝申し上げます。
ありがとうございました?#活版TOKYO #活版TOKYO2019 pic.twitter.com/9wI3731Ii1

— 活版TOKYO (@kappan_tokyo) September 2, 2019
Announcement "Moji Fes."!
Saturday, November 16th and Sunday, November 17th, Fontworks will perform a festival called "Moji Fes." in the city of Shibuya, touch and play with Shibuya cast with Creative Agency Camp Inc. Held!
"Moji Fes." is open to everyone from adults to children, where you can experience the many "characters" hidden in our daily lives from various entrances with the theme of "characters and ◯◯" such as things, music, food. It is a festival. We offer exciting programs to enjoy the world of characters and design, such as exhibitions, workshops, live talk sessions, food and drinks, and AR experiences.
Also more and more new information future Announcement because we will, so stay tuned! !
https://mojifes.fontworks.co.jp
The hashtag is #Moji Festival