Up-to-date information about the schedule of "LETS" Announcement will be.

The current LETS end schedule is shown below.

* LETS renewed in February 2021 is called "New LETS", and LETS that has been provided before is called "Current LETS".
Schedule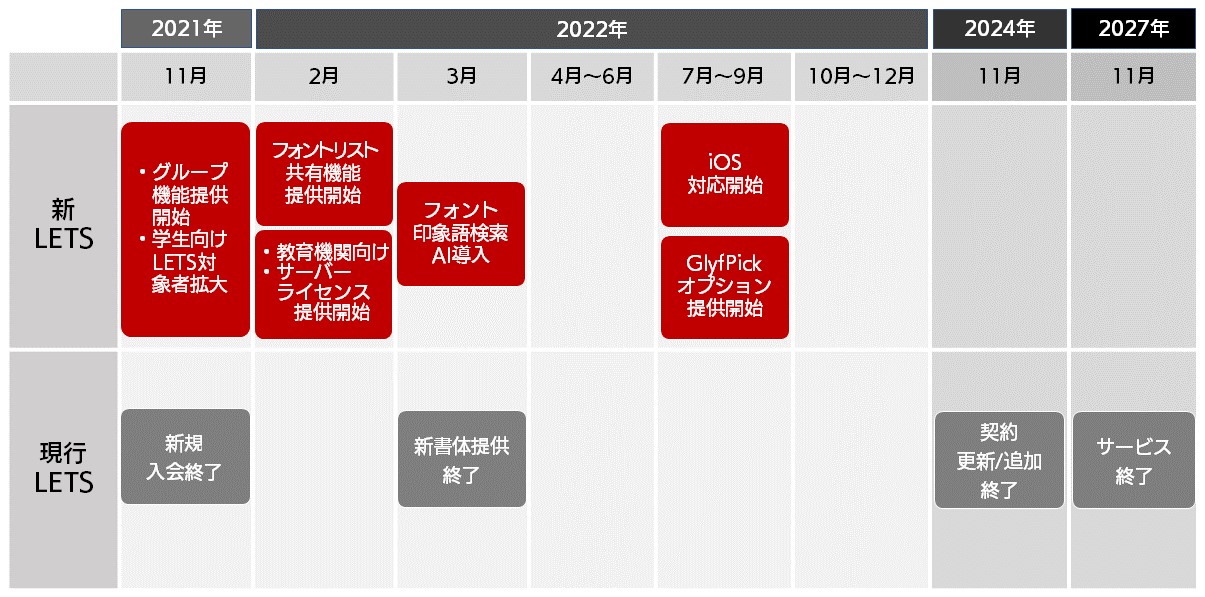 <Current LETS> End schedule
March 2022
Termination of providing new typefaces in the current LETS
* New typefaces after April 2022 will be provided from New LETS.
Please check this Announcement for information on the 2022 new typeface.
November 2024
Addition of current LETS (unit / LETS type), end of acceptance of contract renewal
November 2027
Termination of all current LETS services
We are preparing a "new LETS" transition plan for current LETS contract members. For details, please check the current LETS member site.​
<New LETS> Release schedule
February 2022
Started offering font list sharing function
Launch of LETS for Academic (for educational institutions)
Launch of LETS for Server (server license)

March 2022
Introduced font impression word search AI

September 2022
Available for iPhone/iPad
Started offering GlyfPick option

* Contents, service names, and schedule are subject to change. Please note.