Established in 2001, Denso Wave Co., Ltd. has developed a QR code​ ​that is indispensable to our daily lives, and has developed an automatic recognition technology called RFID (Radio Frequency Identification) using short-range wireless communication, a robot business, and IoT. We are also working on business areas. Based on our corporate philosophy of "deeply and widely contributing to the improvement of social productivity and contributing to the well-being of people," we are providing new added value to society at large, including the manufacturing industry.

In 2021, Denso Wave's handy terminal "BHT" series adopted "UC font", which has a unified design concept in Language This time, we talked online about the reasons why Mr. Yamashita and Mr. Fujisaka of DENSO WAVE, who were actually involved in the selection and adoption of fonts, adopted "UC fonts" and their future business prospects.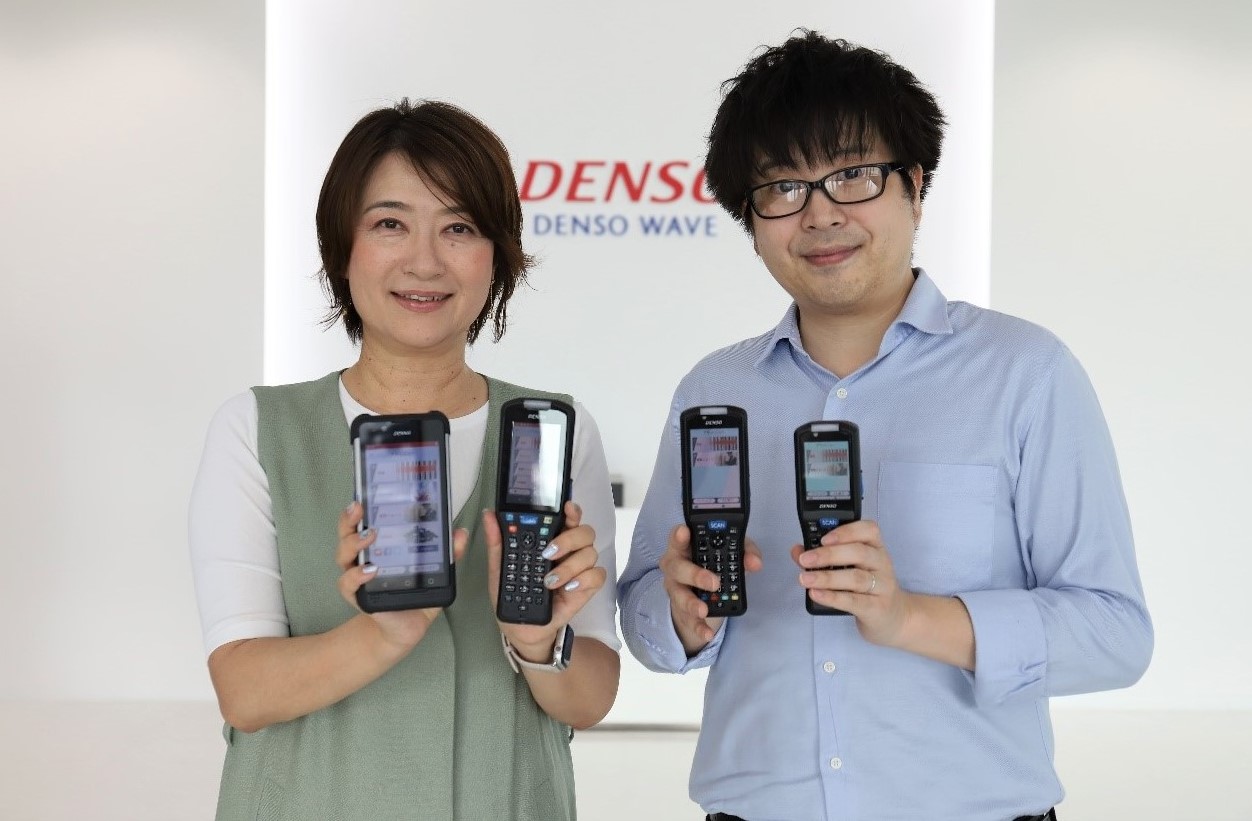 [Photo left] Yukiko Yamashita
Born in Aichi prefecture. After graduating from university, he joined DENSO in 1990. Seconded to Denso Wave in 2001. Assigned to the Engineering Department at the Applied Equipment Division, which is the predecessor of the current AUTO-ID Division, and engaged as a software engineer. Currently, he belongs to the Product Planning Office and is in charge of planning the next product.

[Photo right] Kazou Fujisaka
Born in Mie prefecture. After graduating from university, joined Denso Wave in 2009. Assigned to the engineering department in the automatic recognition division, which is the predecessor of the current AUTO-ID division, and engaged as a hardware engineer. Currently, he belongs to the Product Planning Office and is in charge of planning the next product.
A font that "instantly conveys information correctly" that matches the concept of next-generation products
--Mr. Yamashita, Mr. Fujisaka, thank you for your time today! First of all, please introduce the AUTO-ID division to which you belong.

Mr. Yamashita: DENSO WAVE consists of three pillars: AUTO-ID business, control equipment business, and robot business. Among them, the AUTO-ID division uses "automatic recognition" as a keyword to improve efficiency and reform work styles. It is a department to promote.

The world's first barcode handy terminal "BHT-1" released in 1987 has been active for many years in situations such as convenience stores and mobile sales of the Shinkansen, where sales management and payments are made using barcodes, and automatic recognition. Has led the industry as a pioneer of 1987.

In addition to barcode handy terminals, we also generate QR codes and focus on RFID. Thanks to you, our products are patronized by customers in a wide range of industries such as manufacturing, distribution, logistics, and medical care.
Mr. Fujisaka: In the first place, for such advanced technologies and products, the first step was from the perspective of "manufacturing process management (Kanban system)", in which we wanted to know the flow of goods at the manufacturing sites of DENSO, or Toyota Group.

After that, the need for traceability (*) to manage the process expanded not only to the manufacturing site but also to the area that supports the entire logistics, and now barcodes and QR codes that enable information aggregation in all warehouses and stores are available. It is utilized and the flow of goods is managed in detail.

​This time, "BHT" that uses your company's UC font will also have the role of reading the barcodes and QR codes attached to the products at various work sites and connecting the data to the management system.
* Traceability:
It is a coined word that is a combination of "trace" which means tracking and "ability" which means ability, and means to trace the process from manufacturing to consumption of goods. This is an important idea for identifying the cause and taking countermeasures when a defect or trouble occurs, which leads to improvement of product quality and, by extension, guarantee of trust in the company.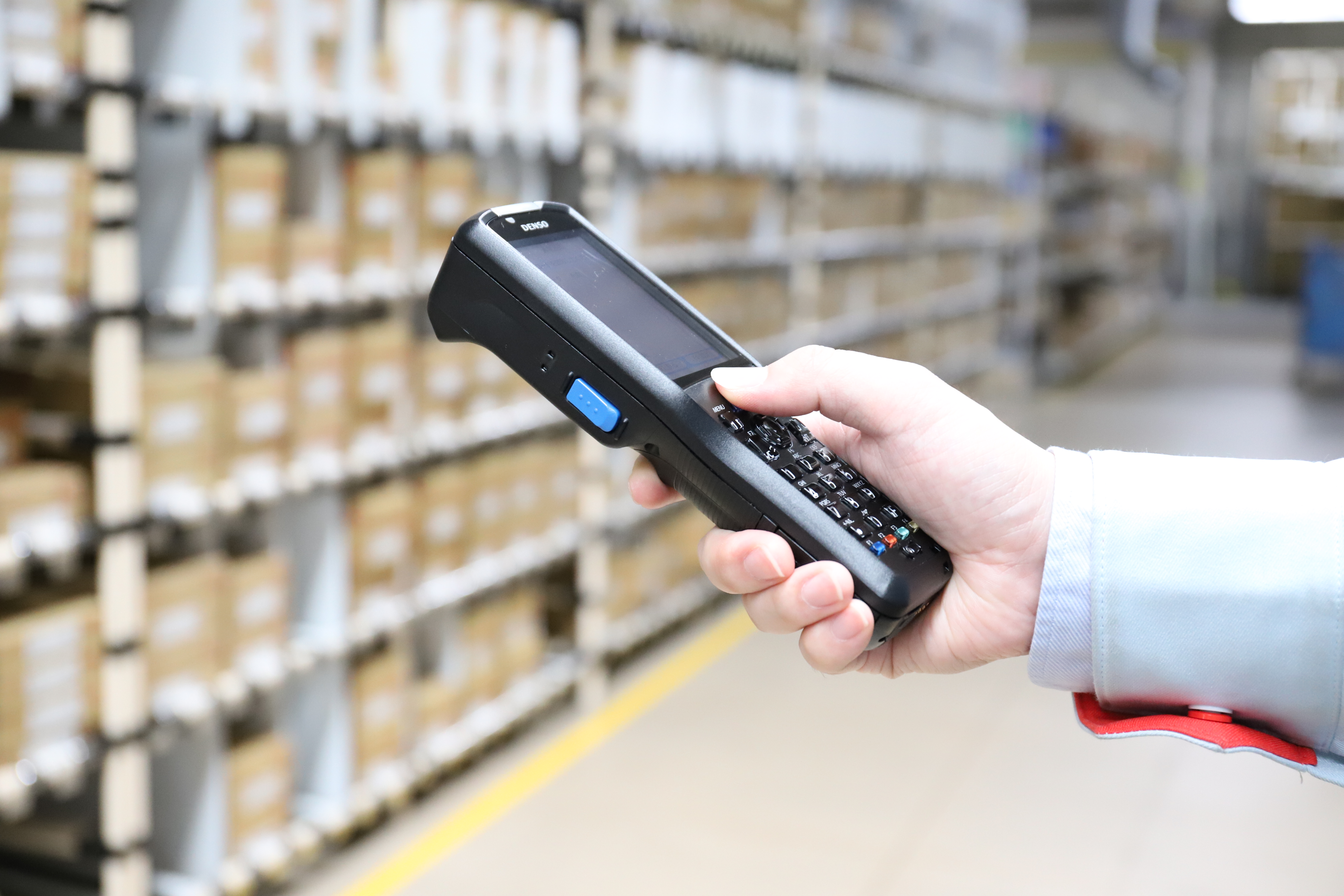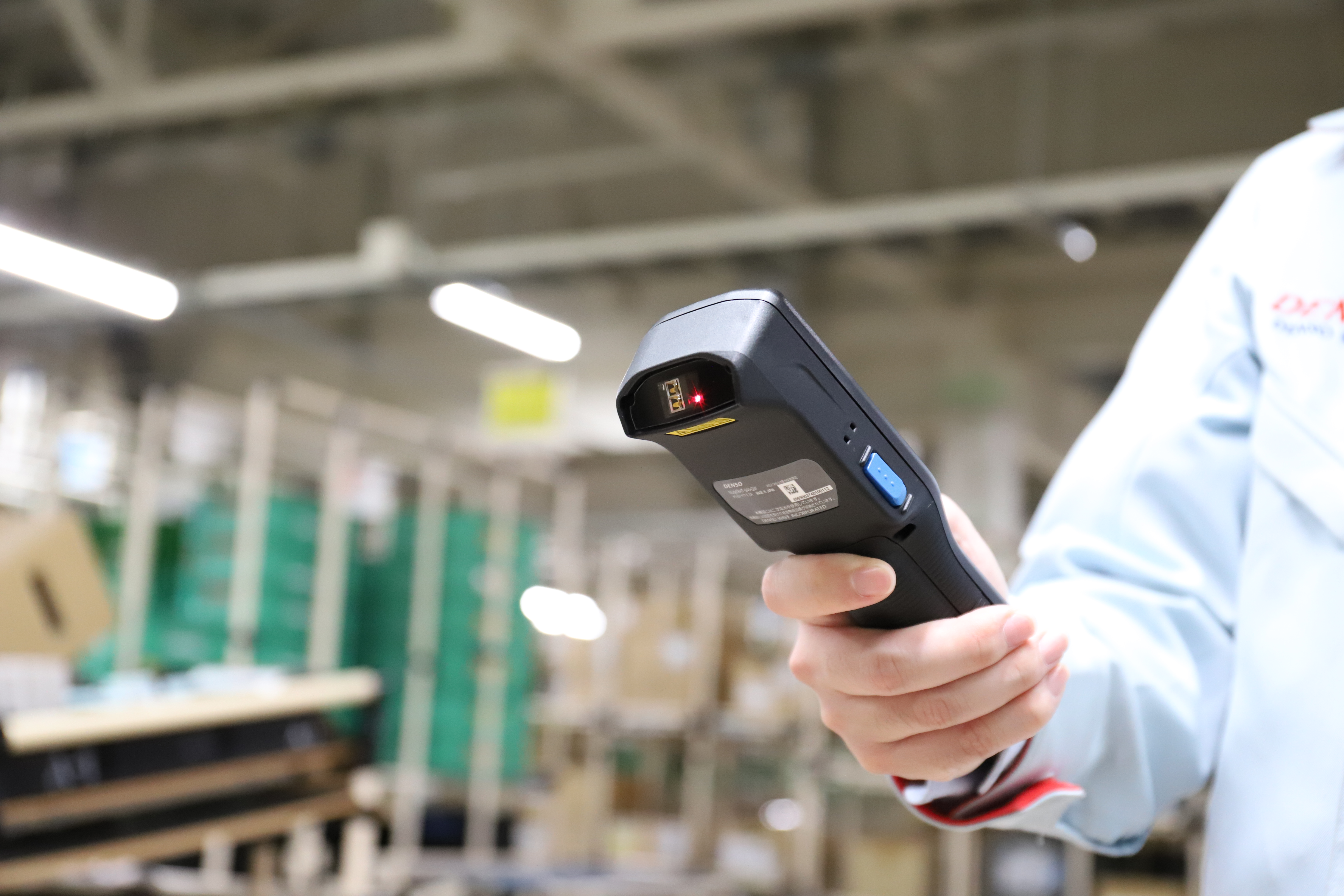 --Thank you for introducing the AUTO-ID Division. Please tell us a little more about the handy terminal "BHT".

Mr. Yamashita: It was around 1985 that we started developing BHT. We started developing hand scanners that only read barcodes in the 1970s, and display and store data on handy devices so that we can handle picking work in a large warehouse and ordering work in a supermarket (backyard). -This BHT started with the decision to create a product that incorporates the concept of "computing" such as transmission.

BHT is actually used by those who carry goods in warehouses, those who are on the assembly line of factories, and those who are involved in ordering and inspection work at convenience stores. Since it is a product for a wide range of users regardless of gender or age, it was developed with the idea that it should be easy to use regardless of age or gender.

――There are many companies other than your company that manufacture and sell handy terminals, both in Japan and overseas. What is the advantage of BHT?

Mr. Fujisaka: We are very particular about the quality of our products. Specifically, it's robust. In a busy work such as a warehouse or backyard, it is a daily occurrence to hit or drop it, but if it gets stuck or breaks, the work will stop and it will be a big loss for the customer, so commercial equipment As a manufacturer, this is a very important point. In addition, it has an advantage in terms of high reading performance.

In addition, we have implemented a "screen compatibility mode" that allows you to transfer App used in conventional products equipped with our original OS "BHT-OS" without modifying the screen layout. With high compatibility with the model, we Support the smooth installation and operation of our customers. We take pride in working closely with our customers to refine our products from the customer's perspective.

--Your understanding of BHT has gradually deepened! This time, you have adopted "UC font" for both the latest models "BHT-S40" and "BHT-S30" equipped with "BHT-OS". Why did you pay attention to fonts in the first place?

Mr. Fujisaka: Originally, the fonts used in the BHT series have been used for nearly 15 years, and the starting point was that I was wondering how far I could respond to the rapid changes in the world.

As I was in charge of product planning, I felt that the number of working people, such as women, seniors, and people from overseas, has diversified, and the sense of speed and efficiency of the site has changed significantly every day. Was there. The "BHT-S40" and "BHT-S30", which were under development as next-generation models, were being developed in consideration of the desire to make BHT itself familiar with the working style of the new era and to make it a product that is easy for everyone to use. From the point of putting "ease of use" in the concept of ", I became more aware of fonts.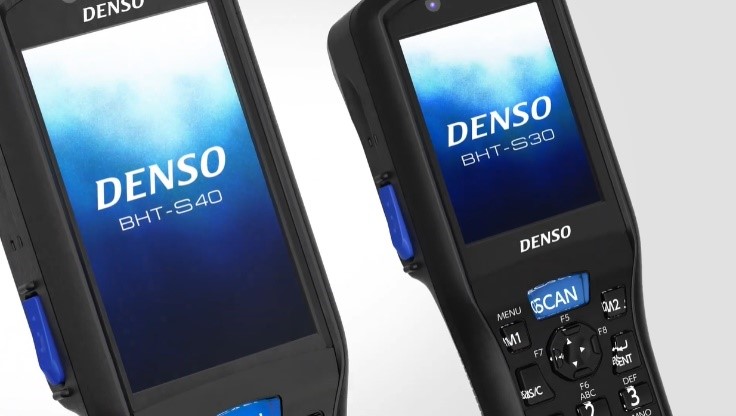 -- So that's it. You designed the concept in line with the transformation of working styles.

Mr. Fujisaka: Yes. On top of that, the screen size of BHT is as compact as 2.4 to 3.2 inches. We are very pleased from the viewpoint of portability for our customers, but when we try to display a lot of information, it inevitably tends to be small letters, and as a result, it becomes difficult to see.

In addition, there are many cases where numbers and English are mixed, such as product models and part model numbers at the manufacturing site. At that time, the numbers 0 and O (O), 1 and I (Eye), etc. are seen. Since mistakes lead to trouble, determining the shape of characters was also a big issue.

Mr. Yamashita: Among the customers who use BHT, there are also busy warehouse sites where one person handles more than 1,000 pieces of luggage a day. Instantly reading the screen leads to smooth work, and many people are working with movement, so it is desirable to check the screen as short as possible. In addition, misunderstanding of the screen may cause erroneous shipment or erroneous ordering, which may cause damage to the company.

Therefore, it was one of the requirements for next-generation products to have a font that "instantly conveys information correctly". What emerged there was a font with the concept of universal design.
"Universal Design fonts", its persuasive power is an opportunity to move the company
――The flow of focusing on the sense of challenge for handy terminals and the font with the concept of universal design (Universal Design) based on that sense of challenge has become clear. Please tell us more about the process from there.

Mr. Fujisaka: After deciding to proceed with the Universal Design concept for the fonts installed in the "BHT-S40" and "BHT-S30", the issues were design and cost. Not to mention the appearance, I have no idea how much it will cost. However, when I decided to investigate from a design point of view and started the investigation, Fontworks' web page about Universal Design fonts was very convincing.

――What kind of place did you touch Mr. Fujisaka's chord?

Mr. Fujisaka: Universal Design It was very important to divide the fonts into the keywords "visibility", "readability", and "discrimination" and to grasp each font quantitatively.

I felt that Universal Design was difficult to grasp quantitatively. When I was wondering how to convey the goodness of persuading my boss, I came across your company's web page.

I myself joined the company as an engineer and then moved to the Product Planning Division, but it was very convincing because I valued the quantitative understanding of Universal Design fonts. I also learned that I was awarded the IA Universal Design Award conducted by the International Universal Design Council, and I felt the seriousness of my efforts for universal design, so I started thinking about introducing your font in earnest.

​I remember using the evidence material on the web page at Downloads when making a request. In the end, it was also great that the sales staff at that time was flexible in discussing costs (laughs).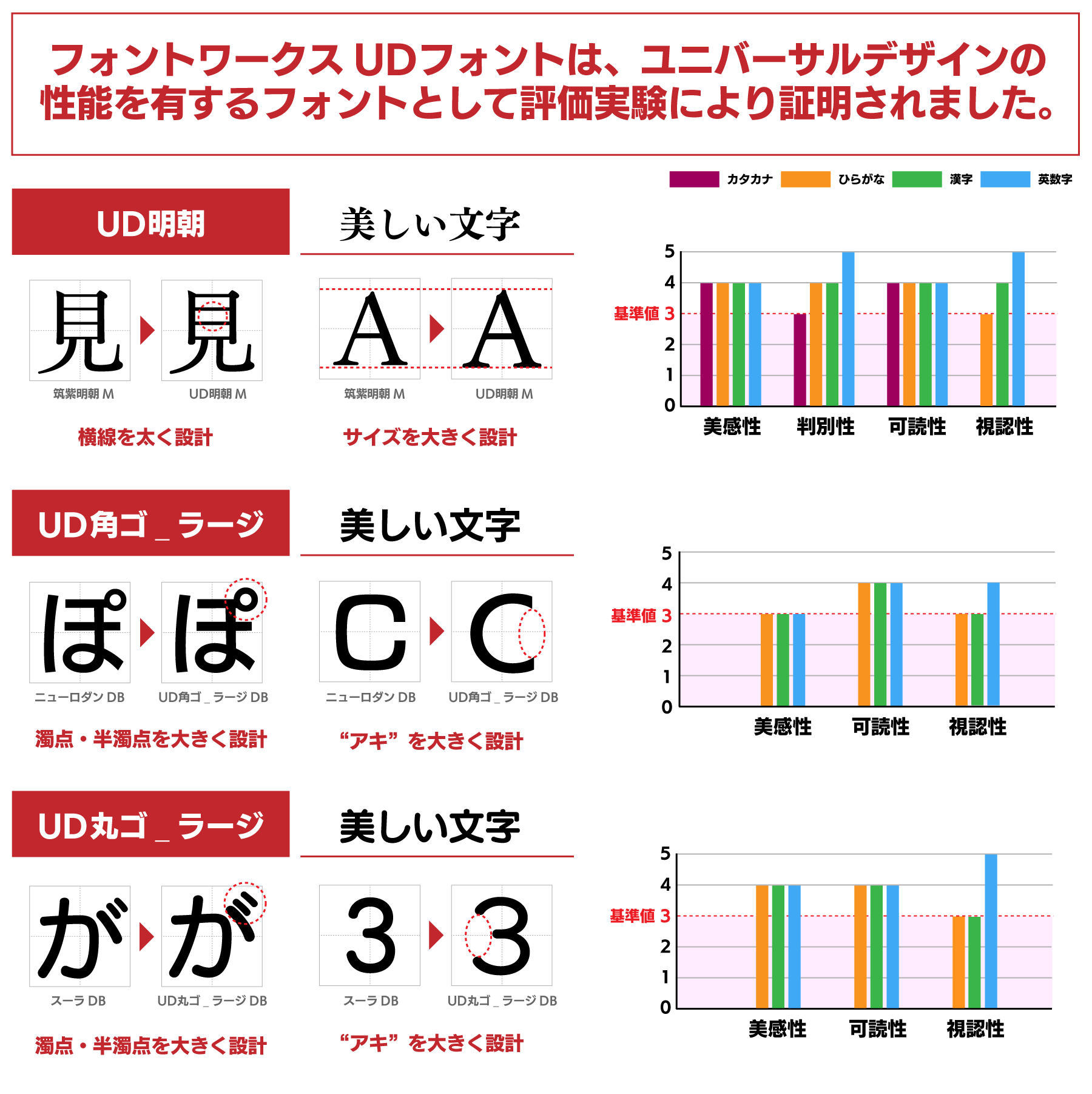 ―― 嬉しいお言葉、ありがとうございます!その他、決め手となったところはありましたでしょうか?

藤坂さん:当時の営業担当の方に多言語対応の課題と、フォント容量の課題に対するソリューションを併せて提案頂いたことです。

―― その点、是非詳しく教えて下さい。

藤坂さん:BHTは仕向先の関係で、多くの言語を必要としています。現地で作業される方が使用する機器なので、現地語でないと作業できないケースが多いんです。

その課題に対して、UDコンセプトの日本語フォントをベースとして統⼀されたデザインコンセプトを持つ、読みやすい多言語フォント(UCフォント)を提案頂きました。その上で、タイ語、アラビア語、ヘブライ語などの複雑な表⽰ルールを持つ⾔語を、組み込み機器上で正しく表⽰するための「レイアウトエンジン」もセットで提案頂きました。この辺りの迅速、かつ当社要望に沿った対応は、大変心強かったですね。

後者に関しても、WindowsやAndroidといった汎用OSで使うようなフォント群は容量の関係で「BHT-OS」には実装が難しいと分かった際に、書体辺りの収録文字が多く容量の大きい日本語、中国語(簡体字・繁体字)に関して「軽量フォント」を直ぐに提案頂いて、もうこれしかない!と思いました。

―― 藤坂さんからの稟議を決裁する立場の山下さんは、藤坂さんからのご相談をどのように捉えていらっしゃいましたか?

山下さん:個人的には、時代にマッチしていていいかな、くらいの思いでしたが(笑)、 実際に藤坂が実施していた業務画面イメージの内容を、作業者のように一瞬で確認するという評価に参加してみたところ、認識しやすさに差があることを実感しました。 特に、フォントサイズが小さくなった場合や、英数字においてはその差が大きく感じられ、 「これは絶対に現場に必要!」という思いになりました。

また、他拠点で検証に参加した当社の営業担当からは「丸みの具合が綺麗」「今っぽい雰囲気」 という意見も多く出てきて、「綺麗さ」「新しさ」といった面でも優れていることがわかり、 途中から藤坂と強力に推進しました(笑)。

何より、こういった現場目線の新しさというのが、製品のプレゼンスを高め、結果として当社のファンを増やすことにつながるということに私自身気が付きました。 UCフォント選定のプロセスは、私にとっても貴重な学びの機会となりました。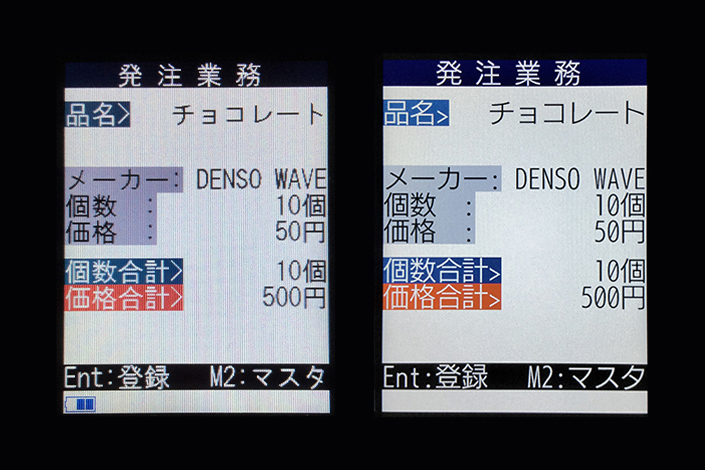 We will continue to produce "people" -centered products!
――Thank you for telling us the details of how your company adopted UC fonts. Finally, please tell us about the future outlook for your business.

Mr. Fujisaka: Considering future social trends and issues (labor shortage), I feel that our products will further increase our mission, and at the same time Universal Design will be an indispensable way of thinking. We will continue to pursue and develop products that are easy for everyone to use.

Mr. Yamashita: Our corporate philosophy is "to deeply and widely contribute to improving the productivity of society and to contribute to the well-being of people," and we believe that it is essential for people to be easy to use in order to improve productivity. We will continue to incorporate this corporate philosophy into product design and do our utmost to continue to produce "people-centered" products.

--Thank you for your valuable story today!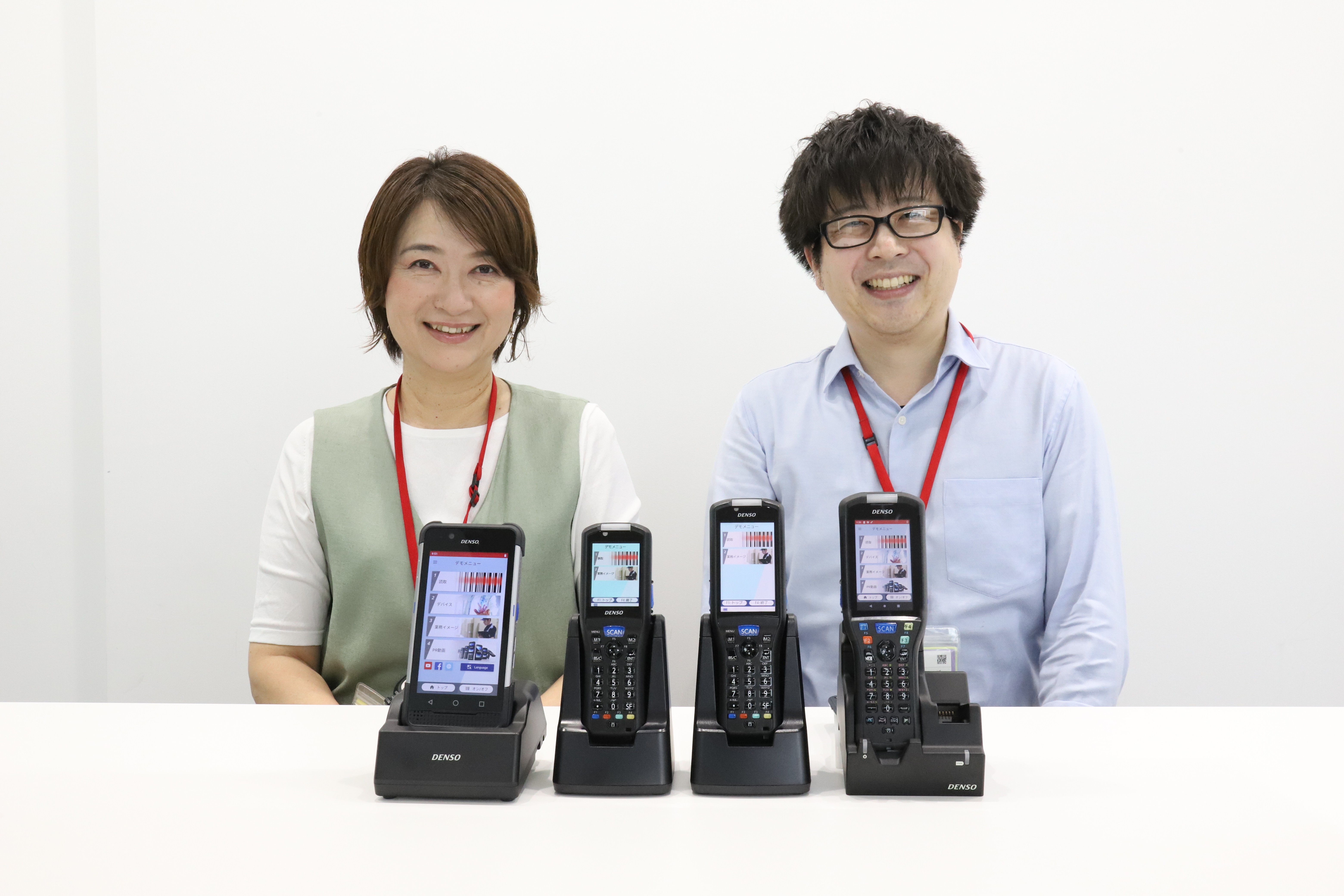 Date of coverage: June 23, 2021



Denso Wave Incorporated

FA / robot, automatic recognition (AUTO-ID) for many industries including the manufacturing industry under the corporate philosophy of "deeply and widely contributing to the improvement of social productivity and contributing to people's well-being" , Control, IoT business development. We are contributing to the development of society by providing solutions that apply core technologies such as "QR code" created in the process and know-how of automation and efficiency.
https://www.denso-wave.com/
---