There are various "fes" in the world.
There are "festivals" that have various themes such as music and food, but when you think about it, the term "festival" has been used since ancient times. Is it recent?
Fontworks will also have a festival!
Characters overflowing around us. But is the designer only particular about the font?
We want you to enjoy choosing letters more freely, just like choosing your clothes freely, as you like your hairstyle and enjoying fashion! I want you to stick to it more and use various fonts because it is familiar!
I want people to enjoy the characters more freely and want them to interact with them more freely.
Yes, Moji and more.
Let's hold an Event that feeling! The idea was born from within the company.
"Moji Fes."
Touch and play in the city of Shibuya. Nice two days for letters and everyone. An Event "Moji Fes." Special site hosted by Fontworks opens! https://t.co/SPCpsLFSgw We will continue to provide more information for the coming November! #Moji Festival pic.twitter.com/7TSCSVmLLh

— Fontworks / Fontworks (@Fontworks_Inc) July 19, 2019
The hashtag is #Moji Festival
We had a workshop inside Fontworks, "Moji Fes." The fellows who shape Camp . I've enjoyed having discussions over and over again (just now) and creating new ideas from scratch. Of course, there are times when it hits the wall, but how did the people who participate on the day enjoy, please, and come! It's a lot of fun to think about what to say.
Look, why don't you get excited when you look around the streets and shops to look for birthday gifts for loved ones and imagine the face of the person to whom you give them a gift? That feeling.
The special site of Moji Fes. Here is.
Character illustration Hiromi Kado The design is Tatsuhei Nakaya I was in charge of this special site where cute characters move lively and I am very pleased with the reputation. I think that you can imagine a fun festival, with the panels moving in a fluttering way and the colors being lively.
You can eat, drink, play, shop, relax, and get a glimpse of various expressions.
Oh yeah, as the title says, the hashtag is #Moji Festival I want to go. Event name is "Moji Fes.", But let's use Hiragana + Katakana to make it easier to enter on a smartphone!
"Moji Fes." Is made in various markets, exhibitions, and projects. Feelings like "I'm worried about this!" "I want to go!" "I want to do it!" #Moji Festival I'd be happy if you tweet and tweet on Twitter!
Pre-plan is amazing!
Such as a notebook or a smartphone schedule
"November 16th and 17th, Moji Fes."
I hope you put it in (please!), But no, there is still time until the day, so,
That's it! Wouldn't it be interesting if Moji Fes. Collaborated with various Event?
So, I will plan a business trip!
August 30th-September 1st at Kanda Jimbocho, Tokyo "Letterpress TOKYO 2019". It is an Event where you can experience and feel the charm of old-fashioned technology and letterpress printing.
At the venue for 3 days, Fontworks Workshop where you can make a sample card of the Chikushi typeface with a manual letterpress printing machine (Tekin) has been held. It's so popular that it's lined up, and the cards for the day are gone soon ... (Sorry for those who wanted to participate!).
Also, during the Event, Fontworks Type Designers Fujita When, Mr. Sekiguchi who is famous for his uncle font by Special talk Event Was done.
I think that the situation on the day will be an article again, so if you can not participate on the day, please look forward to it!
#TOKYO in letterpress A workshop made with a manual letterpress. Due to its popularity, today's session will end ... Tomorrow we'll be doing the day after tomorrow! pic.twitter.com/dU5wFyXyZX

— Fontworks / Fontworks (@Fontworks_Inc) August 30, 2019
#TOKYO in letterpress Type Designers Fujita @ Tsukushi55 And font uncle @HiroGateJP Special talk show by has started! #Moji Festival pic.twitter.com/DqpVRnBH8Y

— Fontworks / Fontworks (@Fontworks_Inc) September 1, 2019
And as an official program at the design festival "Design Scramble 2019", which will be held on October 13th, where creators and designers who are active in Shibuya will gather. Talk Event "letter and typography" to learn letter and design Hold!
This talk session is also amazing!
【Part One】
Mr. Fujita, a Type Designers Fontworks, explains the typeface production and talks about the beauty and philosophy of character design.
(Speakers) Shigenobu Fujita (Facilitator) Yuko Miyago

[Part 2]
He will talk about his thoughts and philosophy on typography while looking back on the activities of the luxurious guests who are active in the design and production scenes centered on "characters".
(Speakers) Daijiro Ohara , Kazuhiro Yamada , akira1975 (Facilitator) Yuko Miyago
This Event is already full, but I would like to tell you more about the day!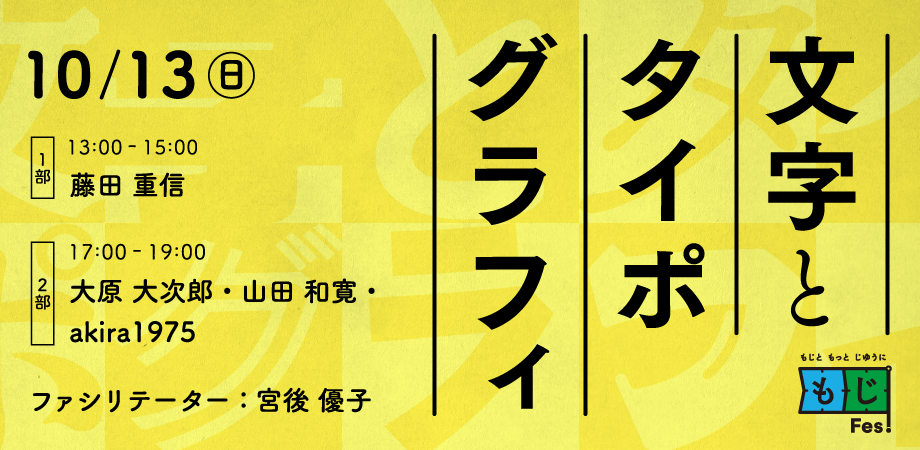 The supporters are amazing!

Still in the middle of preparation! Namoji Fes. Special site As the logo is posted on, we plan to collaborate with various supporters.
Opened in 2017 Shibuya cast We will use it as a venue for this "Moji Fes." I think the Christmas season will be in November when "Moji Fes." Will be held.
And a popular brewery in New York, Brooklyn Brewery . I drank for the first time the other day, and it was delicious!
delicious? #Sangenjaya#brooklynbrewery#Brooklyn Brewery pic.twitter.com/27unfY9Eom

— Mamezo? 11 / 16.17 Moji Festival (@ezcr) June 12, 2019
We have a brewery store in four bases in Japan to provide various beer experiences. SPRING VALLEY BREWERY .
I also visited a fashionable store in Daikanyama, what about macaroons and beer? e? What's going on I had a wonderful experience. No, it fits surprisingly, no wonder.
Collaboration between sweets and beer. Eat beer, macaroon, beer in that order. #springvalleybrewery #Spring Valley Brewery #Craft beer drink comparison pic.twitter.com/BRFBMoQIYf

— Mamezo? 11 / 16.17 Moji Festival (@ezcr) June 20, 2019
Forucafe Is a popular cafe on the first floor of Wework in Harajuku.
It seems that the original menu of "Moji Fes." Is being devised. ! !
This was delicious so I ate three. @forucafe Mr. pic.twitter.com/5Hwlx0vabd

— Mamezo? 11 / 16.17 Moji Festival (@ezcr) June 5, 2019
In addition, we will collaborate not only with companies but also with wonderful creators.
AR Creator Certified by Snapchat Aoe Participated in "Moji Fes."! Original AR content will be released in the "Moji Fes." Venue. Indeed, adults and children can enjoy it!
I got a "stand" like my longing Jojo

When the camera recognizes the face, the character appears behind, and if you move the face, you will hold in the same direction.

If you open your mouth and raise a scream, the character will react and launch a fire attack

We made AR (augmented reality) where all characters, effects, and sound effects move in real time. pic.twitter.com/vNcJPhFai7

— Blue picture (@aoepng) May 13, 2019
I think collaboration with companies and creators will continue to increase, so "Moji Fes." Special site Or Fontworks Twitter Please check with etc.
I say it again and again because it is important, On November 16th and 17th, "Moji Fes." is!
All fontworks employees are working together so that adults and children can enjoy it, so please invite your family, friends, colleagues in the company, etc. to play!
All adults and children gather in Shibuya!
So please m (__) m
See you later!